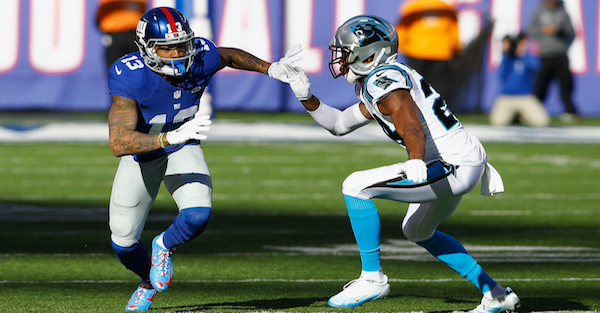 EAST RUTHERFORD, NJ - DECEMBER 20: Odell Beckham #13 of the New York Giants in action against Josh Norman #24 of the Carolina Panthers during their game at MetLife Stadium on December 20, 2015 in East Rutherford, New Jersey. (Photo by Michael Reaves/Getty Images)
After hitting Josh Norman with the franchise tag, the Carolina Panthers have rescinded the offer and one of the best up-and-coming shutdown corners in the NFL is (shockingly) a free agent.
Here's the latest from the team's general manager, per WYFF4:
?After a number of conversations with Josh?s agent we realized that a long-term deal was not attainable,? general manager Dave Gettleman said. ?We have decided to rescind the Franchise Tag freeing Josh to immediately become a UFA. We thank Josh for all his contributions and truly wish him well.?
Norman had four interceptions and three forced fumbles, including 56 tackles in 2015.
Many of the best analysts in the sport can't wrap their heads around what just happened:
He quickly becomes the best player on the market, and could be an ideal fit for a team like the Jacksonville Jaguars, per Peter King or San Francisco 49ers, per Adam Schefter.