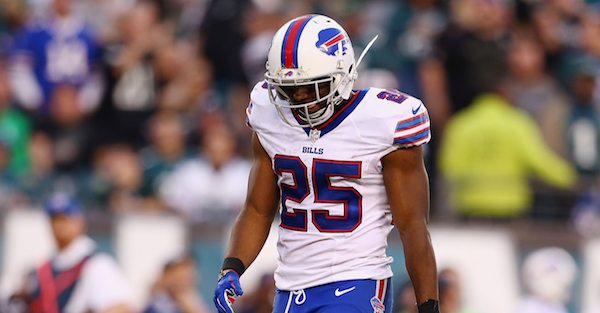 Mitchell Leff/Getty Images
PHILADELPHIA, PA - DECEMBER 13: LeSean McCoy #25 of the Buffalo Bills reacts to a penalty during the fourth quarter against the Philadelphia Eagles at Lincoln Financial Field on December 13, 2015 in Philadelphia, Pennsylvania. The Philadelphia Eagles won 23-20. (Photo by Mitchell Leff/Getty Images)
The Bills meet up with the 49ers Sunday and ahead of their matchup, Buffalo's LeSean McCoy is offering his take on Colin Kaepernick—how to prepare for him as the starter and all the to-do about his national anthem protest.
After noting he's sure the defense will be prepared for Kaepernick, McCoy offered a bit of a different view on the quarterback's national anthem protests.
"…I think the good thing about being here in America; that?s his freedom. If he wants to speak about it or take a knee, there's no law against that…There?s different platforms you can choose to talk about it or make a stand for something like that…he chose to do it on the field, but that?s really up to him. My take on it is obviously the things the cops are doing is definitely wrong…But there?s good people, there?s bad people. There?s good cops, there?s bad cops. Actually, this game or next game I?m going to invite some police to the game, probably 15 or 20, just an appreciation type of thing because they?re taking so much heat right now and what?s going on is definitely wrong, but I always feel there?s just bad people, there?s good cops and there?s bad cops…I don?t want all cops getting a bad rap for what bad cops are doing, because there are still good cops. And at the end of the day if there?s something wrong going on, or there?s something that is dangerous I?m sure Kap will call the cops, he?ll call 911.?
RELATED: Tyrod Taylor had no idea where he was before taking this huge loss
However you look at it, Kapernick's demonstration is about to take on new significance now that he's become the starting quarterback. And it's undoubtedly the most enticing storyline heading into Week 6.