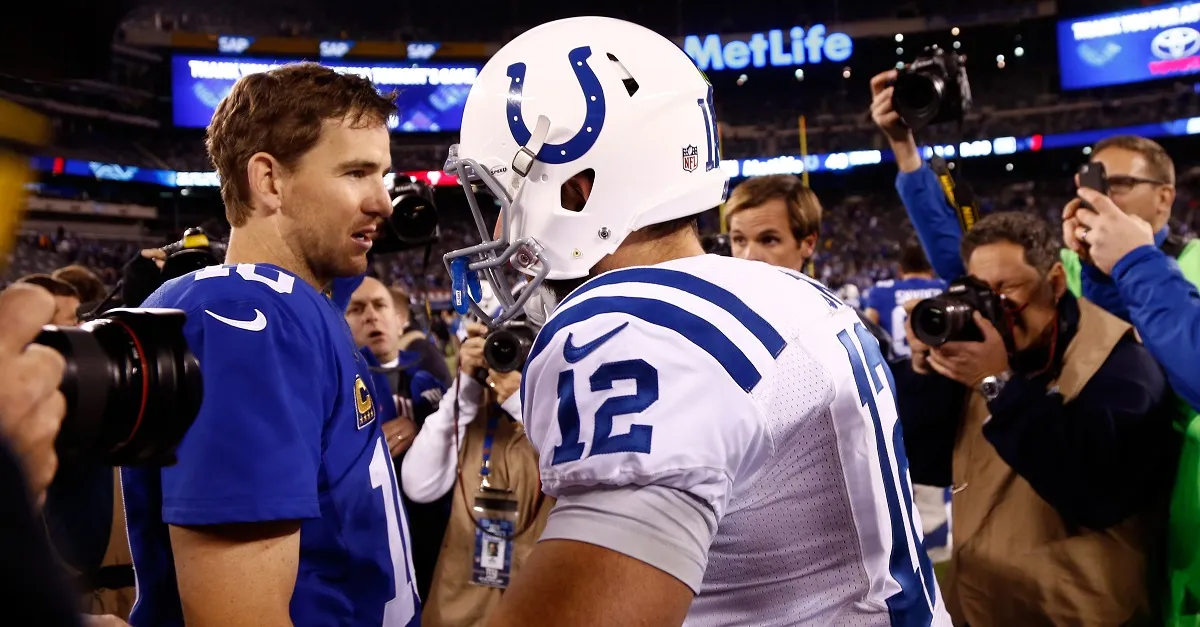 Jeff Zelevansky/Getty Images
EAST RUTHERFORD, NJ - NOVEMBER 03: Eli Manning #10 of the New York Giants shakes hands with Andrew Luck #12 of the Indianapolis Colts after their game at MetLife Stadium on November 3, 2014 in East Rutherford, New Jersey. The Indianapolis Colts defeated the New York Giants 40 to 24. (Photo by Jeff Zelevansky/Getty Images)
The Indianapolis Colts are as heavily reliant on their quarterback as any team in the NFL and that has been on full display as the team struggled to a 2-6 record to open the 2017 season. With that as the backdrop, the team announced on Thursday afternoon that their franchise signal-caller, Andrew Luck, will miss the remainder of the season after being placed on injured reserve.
Luck, who had shoulder surgery in January and has been battling the ailment since that point, said the following in the official release.
"I wish I was better and 100 percent this season, but that's not the case. I know I'll be better from this. I know I'll be a better quarterback, teammate, person and player from this, and I'm excited for the future."
The Colts acquired Jacoby Brissett to operate at the quarterback position and, while there have been rays of hope, the decline between Luck and the other options is quite stark. That comes with the territory for a quarterback billed as a "once in a lifetime" prospect but the Colts' roster shortcomings have been magnified in his absence.
While Luck was projected to return earlier this season, Colts head coach Chuck Pagano illustrated that the team is taking the long-term approach with his health.
"We're going to exhaust all resources because the best interest is the player. It's long-term and we said that. It's for the next 10, 12 years for this guy and for any player. Before we put anybody out there, we're going to make sure he's right so we're going to stick to that process.
"We want the kid healthy. Nobody is more frustrated than him. He wants to be out there with his teammates badly. It isn't fun for anybody, but it is what it is so we'll just keep plugging away."
Indianapolis is likely making the right move for its franchise, especially when considering what it would take to make a playoff run given the dismal early-season record. Still, this will only add fuel to the fire when it comes to Luck's long-term health and there will be plenty of intrigue about 2018.