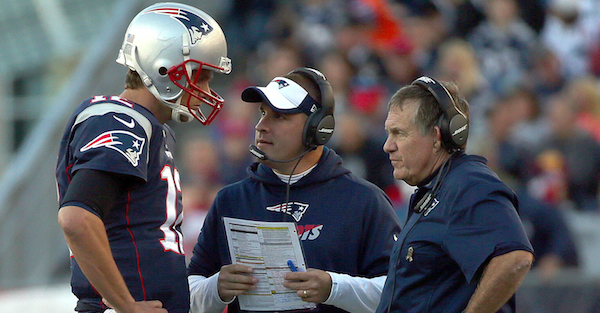 Jim Rogash/Getty Images
FOXBORO, MA - NOVEMBER 8: Tom Brady #12 of the New England Patriots confers with Josh McDaniels and Bill Belichick in the second half during a game with the Washington Redskins at Gillette Stadium on November 8, 2015 in Foxboro, Massachusetts. (Photo by Jim Rogash/Getty Images)
In a shocking change of heart, Josh McDaniels will not take the head coaching job with the Indianapolis Colts and will return to the New England Patriots.
Oddly, the Indianapolis Colts officially confirmed the hiring of New England Patriots offensive coordinator Josh McDaniels as their new head coach on Tuesday via Twitter.
The franchise announced that McDaniels will be introduced during a press conference on Wednesday.
So, ugh, that is legit stunning. The Colts look bad, McDaniels doesn't look great, and this will lead to speculation that he was promised to take over for Bill Belichick after the legendary coach retires. There will also be whispers and conjecture about retirement for Belichick because of this.
Hooray, rumors!
McDaniels had previously served as the head coach of the Denver Broncos from 2009-10, recording an 11-17 record in two seasons.
He spent the last six seasons working as the Patriots' offensive coordinator and quarterbacks coach and had previously worked with the franchise from 2001-08, which included a total of five Super Bowl championships during both stints.
The 41-year-old coach also worked as the St. Louis Rams' offensive coordinator and quarterbacks coach in 2011 before rejoining New England's staff.
NFL fanatics are going to take this well, right?