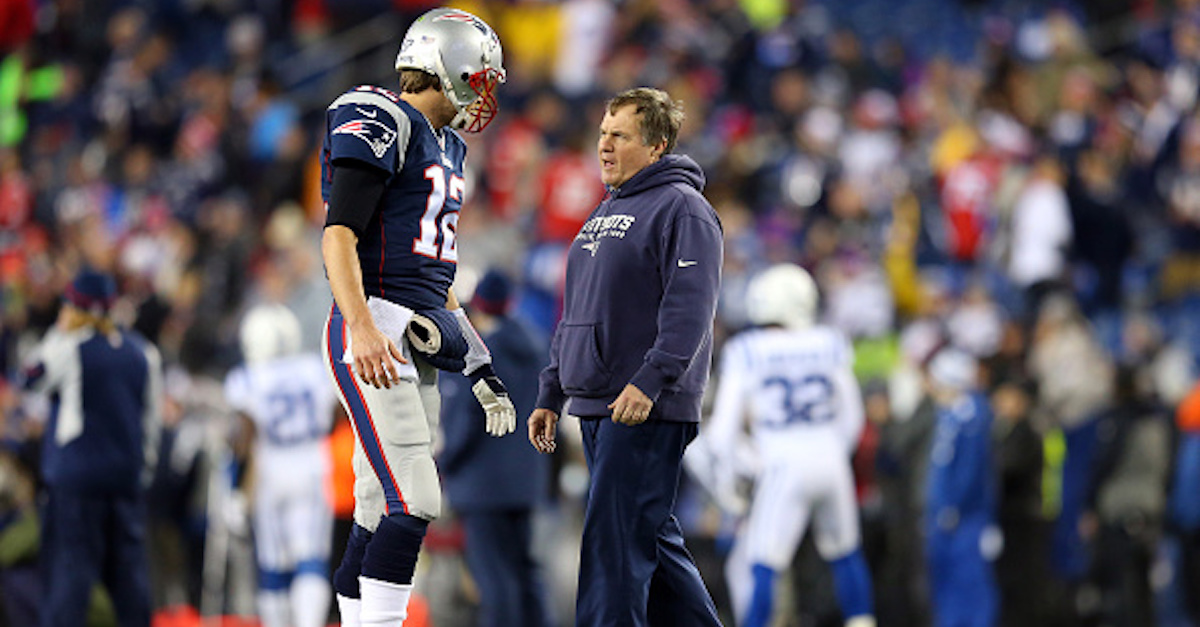 Jim Rogash/Getty Images
FOXBORO, MA - JANUARY 18: Tom Brady #12 of the New England Patriots talks with head coach Bill Belichick prior to the 2015 AFC Championship Game against the Indianapolis Colts at Gillette Stadium on January 18, 2015 in Foxboro, Massachusetts. (Photo by Jim Rogash/Getty Images)
The New England Patriots played a huge game of risk-reward at the NFL trade deadline by trading backup quarterback Jimmy Garoppolo to the San Francisco 49ers.
On one hand, the Patriots got a second-round pick back for a backup quarterback, which is a tremendous deal. On the other, if Tom Brady, now 40-years old, was to get hurt — something that's completely not out of a question for a 40-year old football player — the Pats would be in a world of trouble without Garoppolo.
Still, New England took the chance, and according to Bleacher Report NFL Insider Mike Freeman, there are a few very good reasons why.
Here's what Freeman reported:
"First, Bill Belichick believes that Tom Brady can play another two or three years, at least, at a Brady-like level.
Second, New England couldn't sign him to a long-term deal. According to the source, the two sides were "extremely far apart.'"
The risk-reward obviously still played into it for the Patriots, but Bill Belichick seems to be confident in No. 12, and why wouldn't he be? Brady has made a strong argument over the past 18 seasons to be considered the greatest quarterback of all-time. Belichick is making the same strong argument for himself on the coaching side of things, so as long as the two of them are on the same page, what's really going to stop the Patriots?
It's also worth noting that a second-round pick in the Patriots' hands is worth as much as two first-round picks for a different organization — let's say the Browns.
The Patriots are obviously confident in Brady's talents and they're willing to gamble in the here and now in order to continue thriving in the future.
That's bold, but that's what makes New England so good.