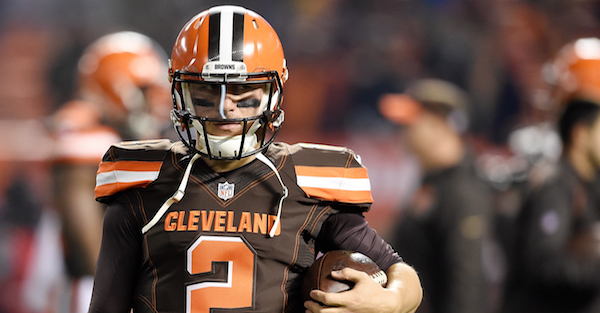 CLEVELAND, OH - NOVEMBER 30: Johnny Manziel #2 of the Cleveland Browns warms up prior to the game against the Baltimore Ravens at FirstEnergy Stadium on November 30, 2015 in Cleveland, Ohio. (Photo by Jason Miller/Getty Images)
For the second time in the last six months, Johnny Manziel was involved in an alleged domestic incident.
After being cleared back in October of an incident where his girlfriend reportedly claimed Manziel pushed her head into a window and left an abrasion on her arm.
This time, the investigation is going a bit further, according to Cleveland.com.
In these series of events, police arrived at an apartment near Texas Christian University, met with a 23 year old who described Manziel as her ex-boyfriend, couldn't find him and eventually sent a helicopter in search of Manziel, according to the report.
After spending time in rehab last year, Manziel has been spotted often partying and drinking this season. Whether the Browns and head coach Hue Jackson keep Manziel is questionable at this point. He's certainly not doing himself any favors.