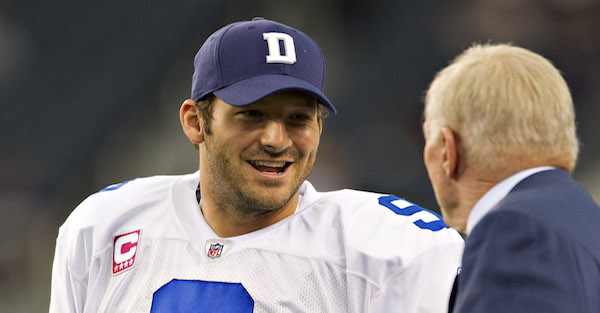 Wesley Hitt/Getty Images
ARLINGTON, TX - OCTOBER 23: Quarterback Tony Romo #9 bumps fist with Owner Jerry Jones of the Dallas Cowboys before a game against the St. Louis Rams at the Cowboy Stadium on October 23, 2011 in Arlington, Texas. The Cowboys defeated the Rams 34 to 7. (Photo by Wesley Hitt/Getty Images)
No one, not even Dallas Cowboys owner Jerry Jones, seems to know what's in store for Tony Romo over the remainder of the 2016 season.
Rookie Dak Prescott seems to have a stranglehold on the starter's job, despite his worst outing of the year Sunday against the New York Giants. And even if that performance would somehow lead to Romo replacing Prescott under center, his future in Dallas beyond this year has pretty much already been decided. This is now Prescott's team.
What's also uncertain about Romo's future is his current trade value. According to ESPN's Adam Schefter and Chris Mortensen, if and when the Cowboys decide to part ways with Romo, it's being forecasted by some general managers around the league that he could be dealt for less than you might think. They write:
…A random sampling of general managers revealed that Dallas could probably get back some sort of mid- to late-round conditional pick for Romo. One general manager predicted that Dallas would get back a fifth-round pick that could improve to a fourth, and another general manager projected the Cowboys could possibly get back a conditional mid-round pick for Romo…Plus, there's this: The Jones family and Romo are so close that they are expected to work together to find a comfortable landing spot for him. And when Romo selects the team that he'd like to go play for, the team will be resistant to surrender any more than it has to, knowing that Romo has identified that franchise as the place he wants to continue his career.
RELATED: Jerry Jones makes a statement on potential quarterback change in Dallas
One would expect Romo to have plenty of suitors, particularly in what seems to be a very quarterback-needy league. But at 36, he's obviously in the twilight of his career, and a blockbuster deal of the sort that sent a 31-year-old Carson Palmer to the Arizona Cardinals is even more than five years too late, considering Romo's fragile history.
There is, of course, the flipside—players like Brett Favre and Peyton Manning who were both able to secure lucrative deals closer to 40 than Romo is. And although it's a little early to tell, conventional wisdom says a similar path is what probably lies ahead for the 13-year veteran.
We'll know more if we actually get to see him on the field again this season, but chances are he's still got some playing left to do.