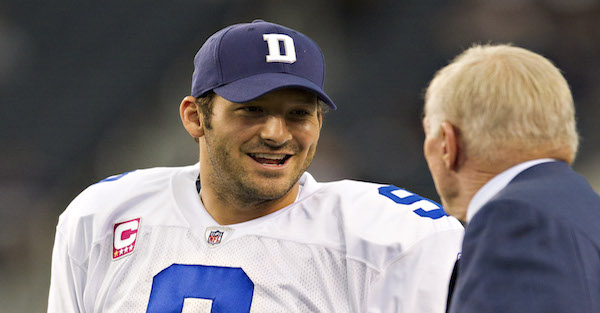 Wesley Hitt/Getty Images
ARLINGTON, TX - OCTOBER 23: Quarterback Tony Romo #9 bumps fist with Owner Jerry Jones of the Dallas Cowboys before a game against the St. Louis Rams at the Cowboy Stadium on October 23, 2011 in Arlington, Texas. The Cowboys defeated the Rams 34 to 7. (Photo by Wesley Hitt/Getty Images)
All that stuff about Tony Romo happy to backup Dak Prescott — forget that.
NFL.com's Ian Rapoport is reporting that it's likely Dallas will trade Romo once the season ends, and there will be a robust market for his services. The report says that Romo is eyeing Denver as a possible destination.
The report also says there's a chance Romo could retire or take a pay cut to stay with Dallas as a backup, but the trade remains the most likely possibility.
All of this makes sense. Romo should be commended for not making waves and being a team-first class act when he refused to make-waves after he lost his starting job. But for the oft-injured Romo, his playing clock is ticking. He'll be 37 when the next season starts, so he doesn't have much time left as an impact starting quarterback.
RELATED: Tony Romo may be saying one thing pubicly, but another privately
Denver makes a lot of sense, and he could reprise Peyton Manning's act — leave the team he knows and loves for a place that will give him a starter's job, and get a chance at a Super Bowl.
We know how that ended up for Manning.
While Romo is likely to have a say — really, he'll probably dictate where he ends up — Dallas will surely engage as many teams as desperate for a QB to drive up its return. Who wouldn't? You can image teams like the New York Jets at least checking in.
Whoever gets Romo is going to roll the dice on a player coming off a compression fracture in his back, and has had a broken collarbone, a ruptured disk and a two transverse process fractures in his back