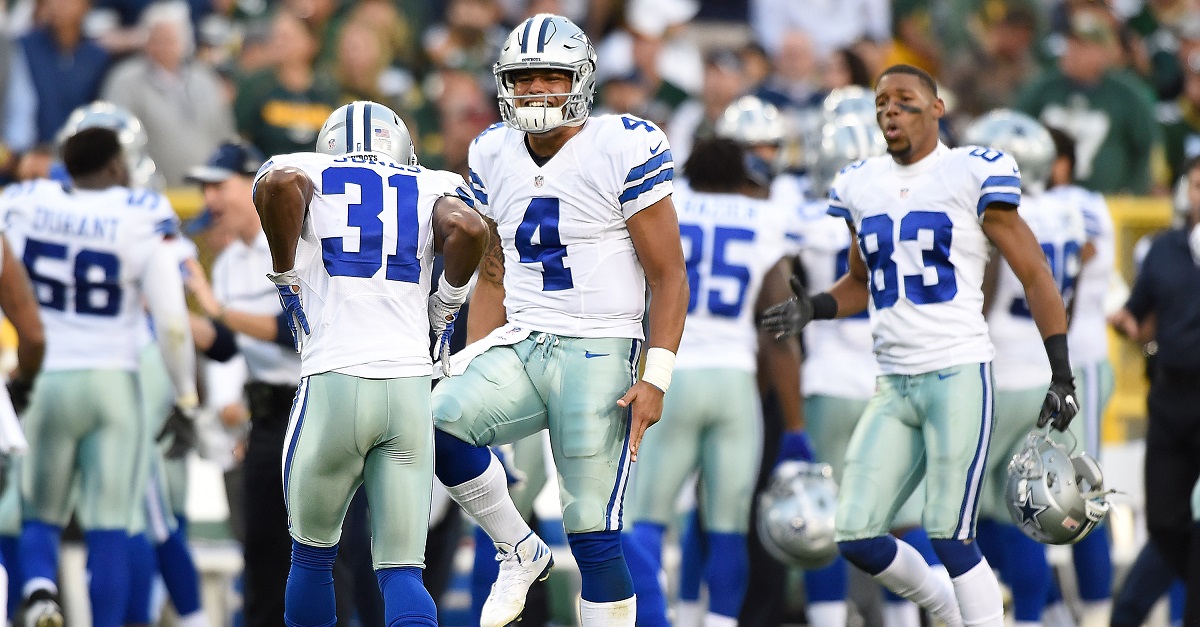 Hannah Foslien/Getty Images
GREEN BAY, WI - OCTOBER 16: Dak Prescott #4 of the Dallas Cowboys celebrates with Byron Jones #31 against the Green Bay Packers during the third quarter at Lambeau Field on October 16, 2016 in Green Bay, Wisconsin. The Dallas Cowboys defeated the Green Bay Packers 30-16. (Photo by Hannah Foslien/Getty Images)
You knew chances were good that Dak Prescott would eventually have at least one bad outing.
But what you didn't know is that the same fan base that's been touting the rookie Dallas Cowboys quarterback would be so quick to turn on him. That said outing finally came Sunday night as the Cowboys fell to the New York Giants 10-7, but even before the game was over, Twitter was abuzz with calls for Tony Romo to step in.
The Giants have definitely had Prescott's number. After handing him the first loss of his career in the first start of his career in week 1, New York followed it up with an even better defensive performance. In a word, Prescott looked rattled, and demonstrated none of the poise he showed in the Cowboys 11-straight victories.
And it was more than just the fans who felt that way. Pundits and analysts also weighed in during the game.
RELATED: Cowboys specialist was left at home and the team had a good reason for doing so
Now, you have to wonder if the quarterback controversy that dominated the headlines for so long is about to take center stage again.
If owner Jerry Jones's comments after the game insisting that Prescott's performance won't lead to a quarterback change are to be taken with a grain of salt (like almost everything else he says), it'll be back on the table soon enough.