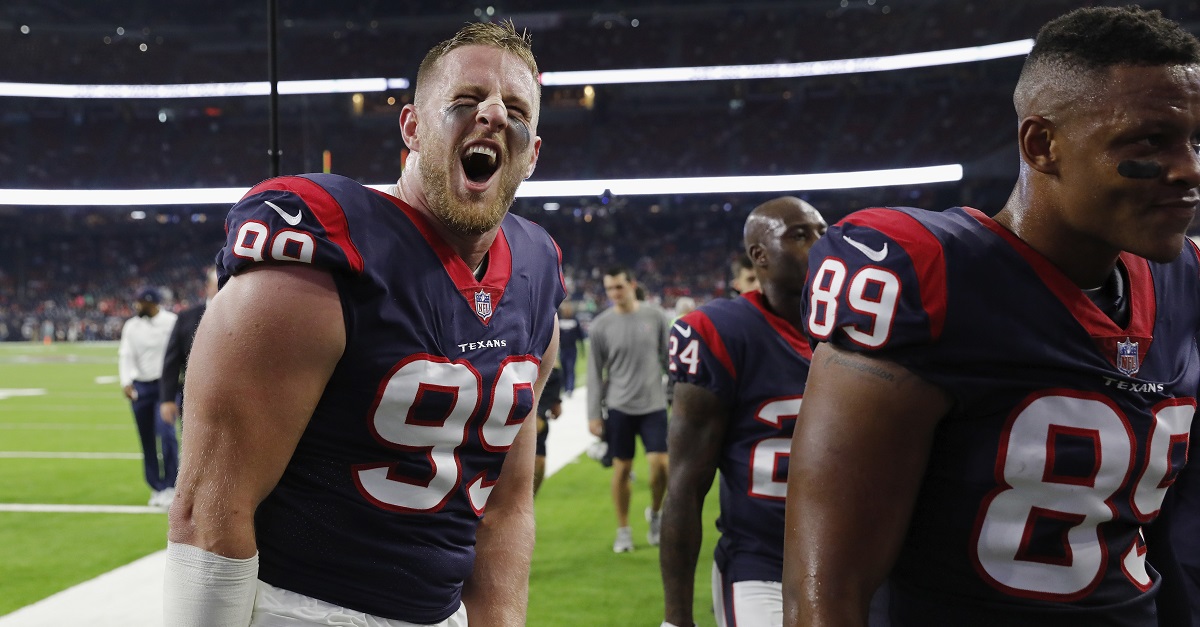 Tim Warner/Getty Images
HOUSTON, TX - OCTOBER 08: J.J. Watt #99 of the Houston Texans excites the crowd before the game against the Kansas City Chiefs at NRG Stadium on October 8, 2017 in Houston, Texas. (Photo by Tim Warner/Getty Images)
J.J. Watt is a beast on the football field and a tremendous person off of it. In the wake of Hurricane Harvey and the devastation it wreaked on the city of Houston, Watt's NFL city, the superstar defensive lineman has determined how he's going to do his part to help out.
In the immediate aftermath of Harvey, Watt set out with a goal to raise $200,000 towards the relief effort. He put out a campaign and used his star power to draw donations, and when all was said and done, Pro Football Talk reports that Watt's foundation raised a whopping $37 million towards Hurricane Harvey relief.
That's a tremendous amount, and it's going to go to a tremendous cause. According to Charean Williams of PFT, Watt has announced four partners that will receive the money he helped raise; Americares, Feeding America, SBP and Save the Children.
Per the report, $30.15 million will be used in the next 18-24 months for rebuilding homes, child-care centers and proving food and health needs in and around Houston. The Hurricane Harve Relief Fund will use the rest of the money in 2018 as needs arise.
Watt released a statement on the matter, saying that his wish is to help every single person he can.
?With such incredible support like this comes tremendous responsibility,? Watt said in a press release. ?I have spent the greater part of the last month and a half doing my due diligence and meeting with and speaking to as many resources as possible. While I understand the total recovery from Hurricane Harvey could require upwards of $200 billion, and this $37 million will not be able to help every single person as I so badly wish it could, I have made it my mission to ensure this money makes as large of an impact as possible.?
He also went on to thank those who have helped him help others:
?I have said it many times over the course of the past few months, but it bears repeating again: The most difficult times seem to bring out the best in humanity. I cannot thank everyone enough for their support and donations from across the country and around the world. You have truly shown what is possible when everyone bands together for one common cause. While we are going to do some truly incredible things with this $37 million to make it stretch as far as possible, it is only one small step in the massive recovery effort that lies ahead. I encourage you to please continue to find organizations to donate to. . . . Houston will bounce back from this and we will rise up stronger than ever.?
Watt was drafted No. 11 overall by the Houston Texans in the 2011 NFL draft. Coming out of Wisconsin, he went on to become one of the most dominant defensive linemen in the league. Though these past two seasons have been injury-riddled, through seven seasons with Houston he has notched 76 sacks, 310 tackles, 15 forced fumbles, an interception and a defensive touchdown.
Watt also caught three touchdowns in 2014, a season that saw him put up 20.5 sacks on the other side of the ball.
He's truly been a legend for Houston, both on and off the field.