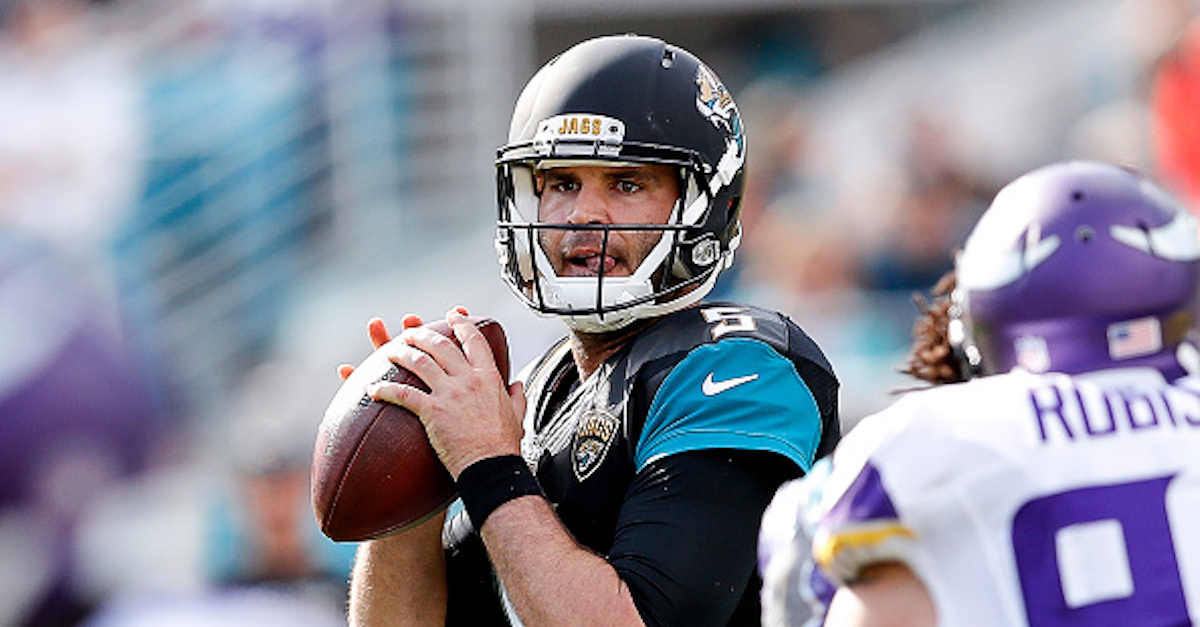 Don Juan Moore/Getty Images
JACKSONVILLE, FL - DECEMBER 11: Quarterback Blake Bortles #5 of the Jacksonville Jaguars on a pass play during the game against the Minnesota Vikings at EverBank Field on December 11, 2016 in Jacksonville, Florida. The Vikings defeated the Jaguars 25 to 16. (Photo by Don Juan Moore/Getty Images)
Blake Bortles' days as the Jacksonville Jaguars' franchise quarterback could be numbered.
The Jaguars announced Wednesday that Chad Henne will be the starting quarterback for their third preseason game against the Carolina Panthers on Thursday.
However, Bortles will still play with the first team offense as the team suggests the reps will be split "relatively evenly."
Bortles has struggled throughout preseason and has shown a decline since being selected No. 3 overall in the 2014 NFL Draft. The former UCF star has thrown for 81 yards with zero touchdowns and interceptions on 11 of 18 passing.
During last week's nationally televised game against the Tampa Bay Buccaneers, Bortles underthrew wide receiver Allen Robinson twice and was booed heavily by Jags fans, prompting head coach Doug Marrone to open the competition for the starting quarterback job.
"It's this simple: I'm looking for the best person to lead this offense," Marrone said following that game. "[The QB position] is right up there for grabs, and either person can take it."
Henne has thrown for 183 yards and one touchdowns on 11 of 16 passing during preseason. He is 5-14 in 19 regular season starts since joining the Jaguars in 2012 and was benched for Bortles after three games in 2014, starting in zero games since.
If Henne continues to outplay Bortles, it could mean the end of the former first-rounder's tenure in Jacksonville, at least as the team's franchise quarterback. If so, would another NFL team be willing to take a risk on him as a starter moving forward?