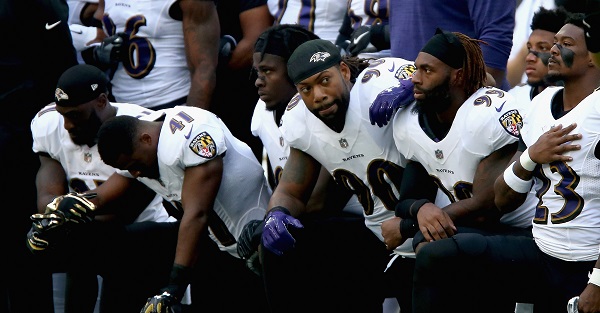 Alex Pantling/Getty Images
LONDON, ENGLAND - SEPTEMBER 24: Baltimore Ravens players kneel for the American National anthem during the NFL International Series match between Baltimore Ravens and Jacksonville Jaguars at Wembley Stadium on September 24, 2017 in London, England. (Photo by Alex Pantling/Getty Images)
National anthem protests were the topic of conversation in the sports world on Sunday and, at least to a large extent, much of that was driven by President Donald Trump's response and commentary. While the quality of play across the league was actually quite strong, many fans felt the need to voice their displeasure with various forms of protests from players and that led to at least one fan effectively placing his season tickets for the Baltimore Ravens up for sale on Twitter as a result of his strong feelings.
On cue, former Ravens safety and long-time NFL veteran James Ihedigbo joined the discussion with a swift response.
Ihedigbo offering to buy the season tickets, which certainly do not come cheap, is an interesting and pointed choice. It certainly comes off as support for those protesting and, in the same breath, Ihedigbo's declaration that he would give the tickets away could go a long way toward spreading goodwill in the community.
Responses like this one and the protests themselves will almost certainly continue to inspire harsh reaction on both sides, but James Ihedigbo handled it in his own way on social media and his message seems to be pretty clear.