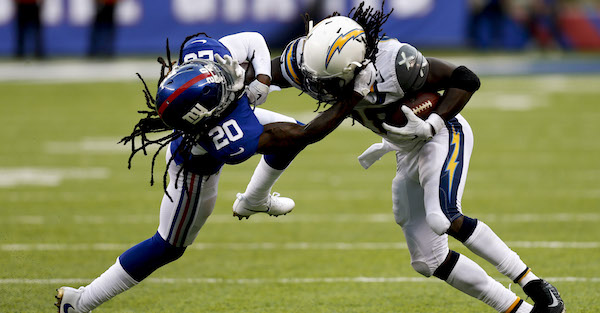 Jeff Zelevansky/Getty Images
EAST RUTHERFORD, NJ - OCTOBER 08: Melvin Gordon #28 of the Los Angeles Chargers breaks free of Janoris Jenkins #20 of the New York Giants during their game at MetLife Stadium on October 8, 2017 in East Rutherford, New Jersey. (Photo by Jeff Zelevansky/Getty Images)
The New York Giants have been wildly disappointing this season with one notable exception. The team did put together a shockingly strong performance in upsetting the Denver Broncos in front of a national television audience, but aside from that, New York's ugly 1-6 record is reflective of the scuffles occurring on the field.
On the bright side for the Giants, the team took the week off for a bye in Week 8, but in coming back to prepare for the game against the Los Angeles Rams, word broke that New York would be without one of its best players. Cornerback and former Pro Bowler Janoris Jenkins has been suspended for a "violation of team rules."
Jenkins was joined by fellow cornerback Eli Apple and running back Paul Perkins in being absent from Monday's first team gathering of the new week, but apparently that was foreshadowing for a game absence. It is not yet known as to why Jenkins was suspended aside from the stated reasoning, but this is added to a list of unfortunate circumstances (headlined by injuries) that have taken the Giants' best players off the field this season.
New York is capable of threatening Los Angeles at home this week, but it will be more of an uphill battle without Jenkins.