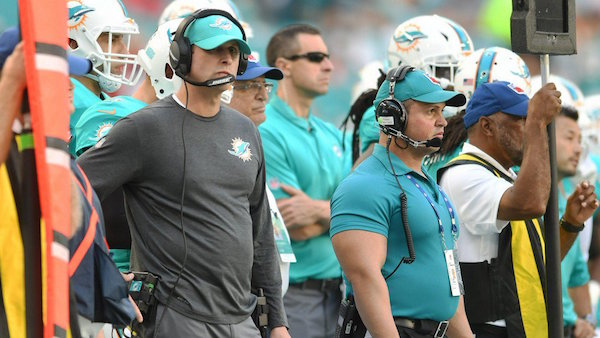 @SunSentinel/Twitter
@SunSentinel/Twitter
Miami Dolphins wide receiver Jarvis Landry's season ended prematurely after getting ejected from his team's Week 17 game against the Buffalo Bills on Sunday.
Landry — along with running back Kenyan Drake — was dismissed after getting into a fight with Bills players toward the end of a one-yard touchdown reception in the fourth quarter of the 22-16 loss.
On Wednesday, Dolphins coach Adam Gase criticized the wide receiver for his part in the incident during a press conference.
?This last game was probably the pinnacle of what I?ve ever seen with him during a game,? Gase said, via ESPN.com. ?I don?t think I?ve ever seen it get to a level where it was extremely bad. But the last game was about as embarrassing as I?ve seen in a long time. It was something we can?t have happen.?
Landry, who was also involved in a sideline argument with Gase in Week 16, could test free agency this offseason, although there have been serious discussions about a new deal in Miami for the two-time Pro Bowler.
Gase also noted that the team wouldn't overreact to the incident and will instead analyze ?the body of work and see what direction we want to go? regarding Landry's future with the franchise.