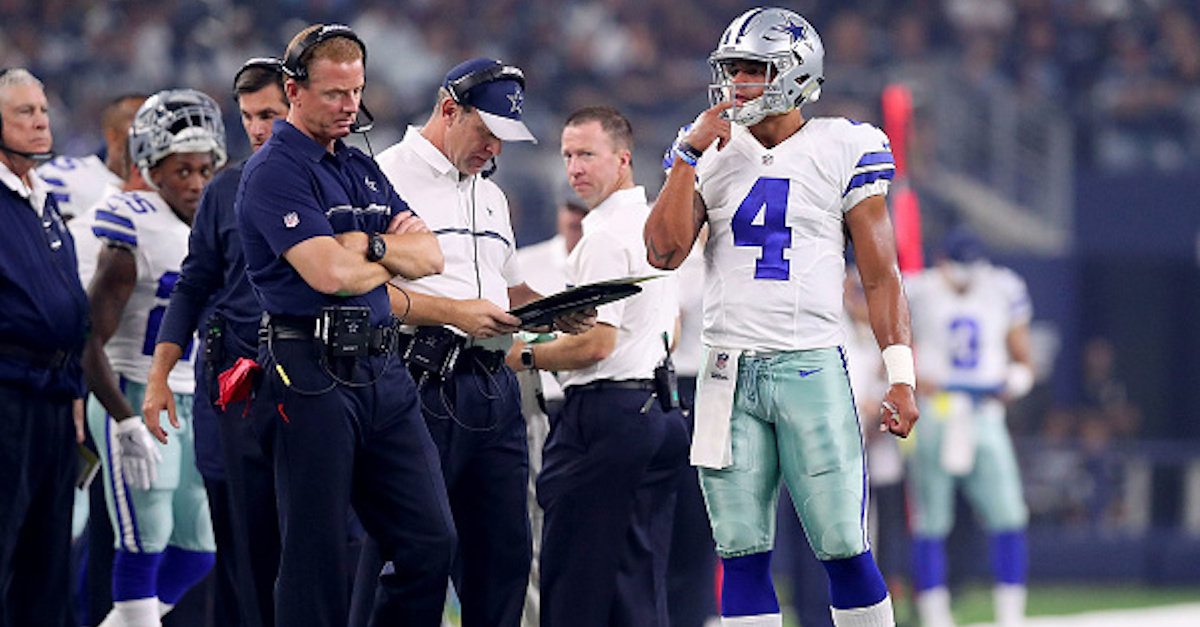 Tom Pennington/Getty Images
ARLINGTON, TX - SEPTEMBER 25: Dak Prescott #4 and head coach of the Dallas Cowboys, Jason Garrett look on during a game between the Dallas Cowboys and the Chicago Bears at AT&T Stadium on September 25, 2016 in Arlington, Texas. (Photo by Tom Pennington/Getty Images)
Dak Prescott's sophomore season as an NFL quarterback was up and down, to say the least, but head coach Jason Garrett believes the former Mississippi State quarterback is still the future in Dallas.
This is according to what he told the media during his last press conference of the 2017 season. Dallas went 9-7 and missed the playoffs in a season that many felt the Cowboys could have been Super Bowl contenders. Ezekiel Elliott's suspension saga was partially to blame, but so was Prescott's inconsistent play.
He far from lived up to expectations after being named the NFL's offensive rookie of the year in 2016, but that didn't stop his head coach from heaping praise on him, via 247Sports:
"I think he's absolutely the right kind of guy to have as the quarterback of your organization," Garrett said in his final press conference of the season. "I think he's demonstrated that time and time again. Now, if you pull back and look at what he's done in his first two years of his career, he's won 22 out of 32 games, he's 22-10 as a starting quarterback in the National Football League.

"You reflect back at other quarterbacks as they have started their careers no one has really had that kind of success like he has. Now, is he perfect? Absolutely not. Does he need to get better? Absolutely he does. We're focused on that. But he's done a lot of really good things in a short period of time for us."
Garrett was asked whether or not he thinks Prescott is the Cowboys' "franchise quarterback", and his answer was clear:
"Yeah," Garrett said. "We think he's an awfully good quarterback to have leading your franchise. There's no question about that in our minds."
Though Prescott did struggle at times, he still did throw for 3,324 yards and 22 touchdowns for Dallas this season. He also rushed for 357 yards and six touchdowns on the ground.
The issues for Prescott came in the form of his 13 interceptions and he also fumbled the ball away four times. Without Elliott behind him, Prescott was somewhat exposed in 2016, but considering the fact that sophomore slumps aren't all that uncommon in the NFL — there's still plenty of reason for the Cowboys to be optimistic.
It sure seems that Garrett is.