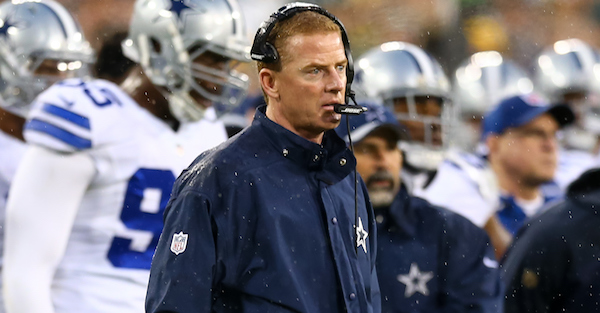 Ronald Martinez/Getty Images
GREEN BAY, WI - DECEMBER 13: Head coach Jason Garrett of the Dallas Cowboys stands on the sidelines in the first half of the game against the Green Bay Packers at Lambeau Field on December 13, 2015 in Green Bay, Wisconsin. (Photo by Ronald Martinez/Getty Images)
Dallas Cowboys linebacker Jaylon Smith missed his entire rookie season due to a knee injury, but the team is hoping Smith will be ready to make his debut this fall.
According to various reports from Cowboys camp, Smith looks like he will be ready to play when Dallas open the season against the New York Giants. Cowboys coach Jason Garrett said they are "cutting him loose" at practice every day.
"We?re absolutely going to get to that point before we play in games," Garrett said. "But I think within the confines of what we?re asking him to do, we?re really cutting him loose him every day. He?s responded so well to that."
Related: Cowboys first-rounder Jaylon Smith confirms exactly when he plans to make his NFL debut
Quarterback Dak Prescott also had some promising things to say about Smith's progress.
The practice was open to the media, and reports on Smith were encouraging.
Smith said he understands his return will be a process, and he has "embraced" the challenge.
The Cowboys selected Smith in the second round of the 2016 draft out of Notre Dame despite Smith suffering a knee injury in his final collegiate game.
Smith suffered nerve damage from the injury, and he will most likely have to wear a knee brace while he plays for the foreseeable future.
(h/t FOX Sports)