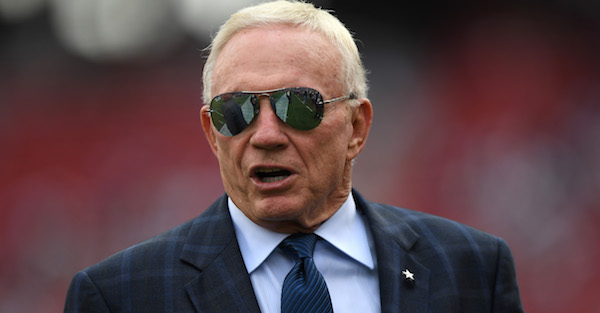 Thearon W. Henderson/Getty Images
SANTA CLARA, CA - OCTOBER 02: Dallas Cowboys owner Jerry Jones is seen on the field prior to the game against the San Francisco 49ers at Levi's Stadium on October 2, 2016 in Santa Clara, California. (Photo by Thearon W. Henderson/Getty Images)
Jaylon Smith will start the 2017 season as perhaps one of the better comeback stories in the league, and he's not even two years into his NFL career just yet.
Todd Archer of ESPN is reporting that Smith will be the Dallas Cowboys' starter at linebacker. This is big news because, if you'll remember, Smith missed his entire rookie season with a leg injury. Notably, that injury was one that he suffered as a college linebacker for the Notre Dame Fighting Irish. Playing in a huge Fiesta Bowl contest against Ohio State in 2016, Smith suffered the catastrophic knee injury.
Seriously, it was bad. He tore his ACL, MCL and suffered nerve damage in his knee. Potentially a top-10 draft pick heading into the 2017 NFL Draft, the injury severely hampered his draft stock. Smith went from a potential top 10 player and fell all the way into the second round.
Dallas took him at No. 34 because of his potential alone, and now we'll finally be able to see if Smith's potential will play out in the NFL.
At the very least, he has one major fan. Sean Lee, his teammate, had this to say about Smith's readiness to play, per Archer's report:
"I'm extremely comfortable with him," Lee said. "The type of work he's put in to come back, what he's looked like in the OTAs, what he's looked like in training camp, he's ready to play."
Smith checks in at 6-foot-2, 245 pounds. He notched 284 tackles, 23.5 tackles for loss, 4.5 sacks, three forced fumbles, three fumble recoveries and an interception in three seasons for the Fighting Irish.