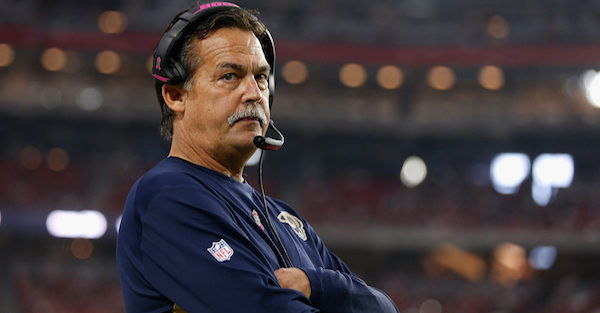 Christian Petersen/Getty Images
GLENDALE, AZ - OCTOBER 04: Head coach Jeff Fisher of the St. Louis Rams looks on during the first half of the NFL game against the Arizona Cardinals at the University of Phoenix Stadium on October 4, 2015 in Glendale, Arizona. (Photo by Christian Petersen/Getty Images)
Apparently Los Angeles Rams coach Jeff Fisher isn't a fan of scouting reports.
Related: New England Patriots receive devastating injury news 
The Rams play the New England Patriots on Sunday, and Fisher started discussing the Patriots' running backs. And, well, it didn't go so well for him.
Fisher also said he has "been impressed with Brandon and what he's done out of the backfield."
We assume he means Brandon Bolden, who technically is a running back on the Patriots roster, but he only has one carry for four yards this season and mostly plays special teams.
Related: Worst ever watch: Current NFL head coach a handful of losses away from making NFL history
Jeff Fisher only has six winning seasons in 22 years as a head coach, and it's becoming increasingly clear why that's the case.
(h/t Sports Illustrated)