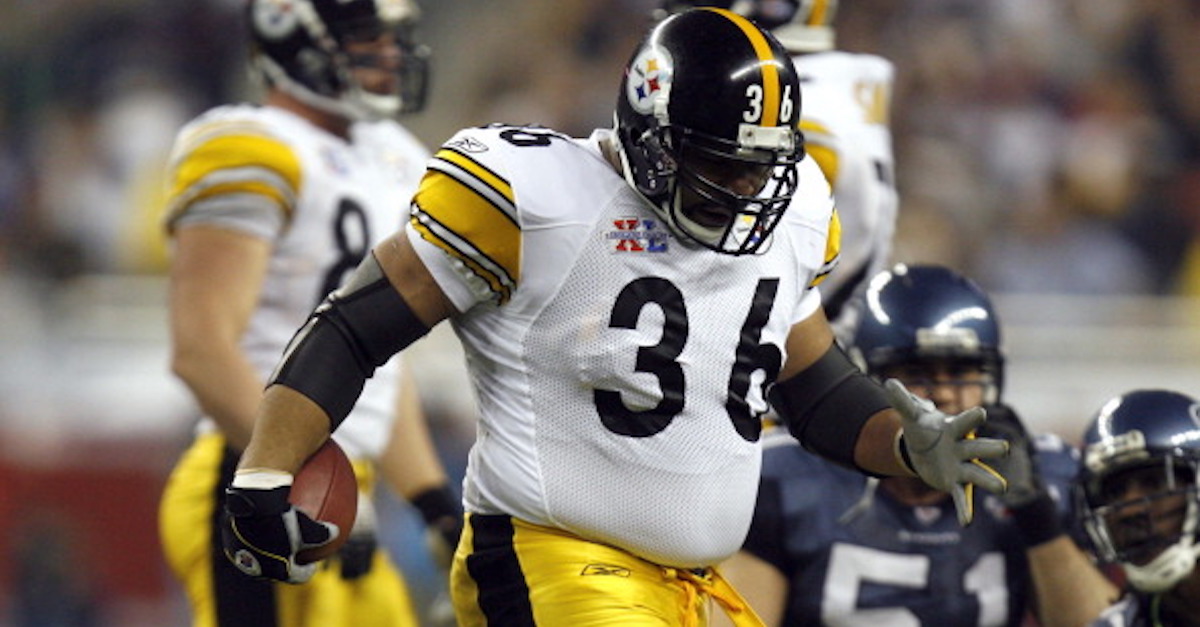 Photo by Allen Kee/NFLPhotoLibrary
Jerome Bettis of the Pittsburgh Steelers during Super Bowl XL between the Pittsburgh Steelers and Seattle Seahawks at Ford Field in Detroit, Michigan on February 5, 2006. (Photo by Allen Kee/NFLPhotoLibrary)
Jerome Bettis is known for perhaps being one of the toughest players in NFL history, and at the very least, he was one of the toughest to tackle.
Bettis, commonly known as "the bus" because of his size and pounding running style, played 13 seasons in the NFL, making his biggest mark with the Pittsburgh Steelers.
Bettis was inducted into the Pro Football Hall of Fame in 2015 as a no-doubter, but the legendary running back recently had some critical words to say about the NFL and the league's lack of transparency over the years in regard to football and brain injuries — specifically concussions and CTE, via Aron Heller of the Associated Press.
"You definitely feel as though you were taken advantage of in a way that you weren?t given that information, and you always want to have the choice of knowing, and when that is taken away from you, you feel as though you were taken advantage of.?
Related: Warren Sapp opens up about how football has negatively impacted his health
The NFL and football as a whole has become much more aware and open about brain injuries recently, especially in the Roger Goodell era, but it's worth noting that there's still a long ways to go. Concussions in football are still a major issue, though teams from the NFL to the pee-wee level have started taking head injuries very seriously. That's the good news. The protocols are changing and head-safety is becoming a focus. According to Bettis, though, there are plenty of veteran NFL stars who weren't afforded that honesty and clarity surrounding head injuries.
?I don?t think you?ll find many guys that had a long career, played 10-plus years, that didn?t have a concussion.?
The NFL may never be able to avoid concussions completely, especially considering the violent nature of the game being played at that level, but it's rather clear that the league is taking steps towards player safety.
Still, that doesn't erase the years of tight lips in favor of bottom lines over safety, and as long as veteran NFL stars are willing to speak out about what they feel was a major injustice, this is a problem that won't go away for the league.
Over the course of Bettis' legendary career, he was a six-time Pro Bowler, a two-time All-Pro and a Super Bowl Champion with the Steelers. He rushed the ball 3,479 times in 13 seasons, accumulating 13,662 yards and 91 touchdowns. For being as big and bruising as he was, it's worth noting that he also caught 200 passes for 1,449 yards and three receiving touchdowns. He was drafted by the Los Angeles Rams (10th overall in 1993) and spent three years with that organization (one in St. Louis), but the last 10 years of his career were with the Steelers.
(H/T Pro Football Talk)