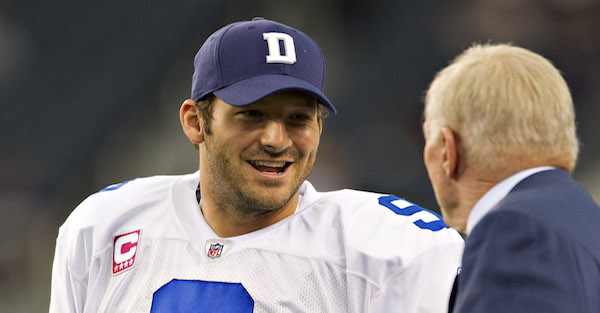 Wesley Hitt/Getty Images
ARLINGTON, TX - OCTOBER 23: Quarterback Tony Romo #9 bumps fist with Owner Jerry Jones of the Dallas Cowboys before a game against the St. Louis Rams at the Cowboy Stadium on October 23, 2011 in Arlington, Texas. The Cowboys defeated the Rams 34 to 7. (Photo by Wesley Hitt/Getty Images)
It's a foregone conclusion that — barring some sort of unforeseen circumstance — Tony Romo is going to quarterback another team next year.
And that seems to bother the hell out of Dallas Cowboys owner Jerry Jones. Jones recognizes that Romo, barring injury, has something left in the tank, and said this to ESPN Dallas Radio Friday:
"That bothers the heck out of me because I know wherever he goes, he?ll start. I know wherever he goes, he?ll compete, absent injury. We saw a guy (Tom Brady) several years older than him win a Super Bowl. I think he?s that kind of player, so you?ve dealt in your own conference, somebody that has the possibility to come back and beat us."
RELATED: Front runner emerge in the Tony Romo sweepstakes
While it's certainly possible Romo could be dealt anywhere, being traded to another NFC East teams seems like the unlikeliest of moves. The big question is, will Dallas get something for him via trade, or will the Cowboys release there once-franchise quarterback so he can cut his own deal.