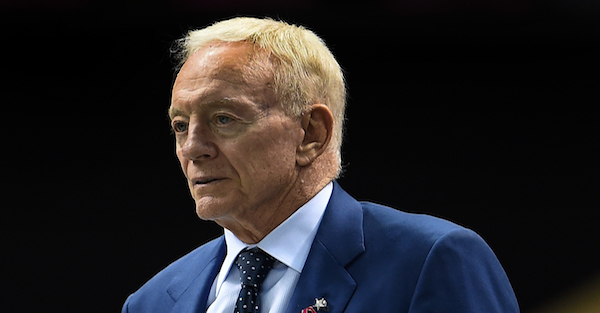 Stacy Revere/Getty Images
NEW ORLEANS, LA - OCTOBER 04: Owner of the Dallas Cowboys Jerry Jones watches from the sidelines during the first quarter against the New Orleans Saints at Mercedes-Benz Superdome on October 4, 2015 in New Orleans, Louisiana. (Photo by Stacy Revere/Getty Images)
Jerry Jones has won three Super Bowls as owner of the Dallas Cowboys, and his tenure will be remembered as a success.
Related: While rumors swirl, Jerry Jones believes one of his QBs "will play in a Super Bowl" 
However, Jones said in an interview with Barry Horn of the Dallas Morning News that the lowlight of his career was Dallas not winning a Super Bowl with Tony Romo.
"Specifically, it would be not getting a Super Bowl in the Tony Romo era," Jones said. "That [playoff] loss in '07 to the Giants, I've looked at it 10 times. I've thought about it so much. The loss at Candlestick [1994 playoffs] kept us from three Super Bowls in a row. But '07 was more impactful. It extended the frustrating period of time of being irrelevant on the field."
Based on Jones' comments, it seems as if he thinks the Tony Romo Era in Dallas is coming to a close soon. It's unclear still if that means Dak Prescott will be the starter next season and Romo will be the backup, or Jones plans to trade Romo this offseason.
The 2007 Cowboys finished 13-3 in the regular season, but they lost in the divisional round to the New York Giants, who went on the defeat the New England Patriots in the Super Bowl.
(h/t All 22)