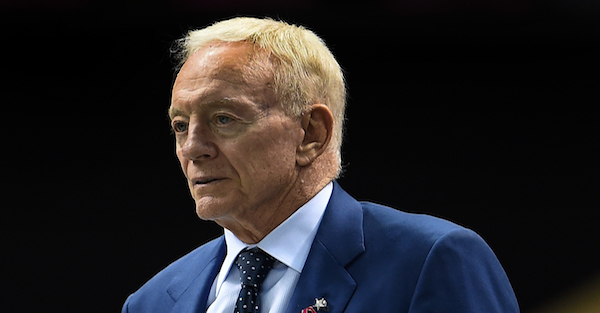 Stacy Revere/Getty Images
NEW ORLEANS, LA - OCTOBER 04: Owner of the Dallas Cowboys Jerry Jones watches from the sidelines during the first quarter against the New Orleans Saints at Mercedes-Benz Superdome on October 4, 2015 in New Orleans, Louisiana. (Photo by Stacy Revere/Getty Images)
In their first game of the 2016 NFL season, the Dallas Cowboys didn't link arms. No one raised a fist to the sky. And No one took a knee or sat on the bench by themselves in protest.
RELATED: After getting crushed by Trent Dilfer, Colin Kaepernick fired back, and he makes sense
That's just the way owner Jerry Jones likes it, too.
Jones "applauded" his players for refraining from choosing sides in what appears to be the topic for this season.
"I applaud our players, our team," he said on his radio show on Tuesday, according to the Star-Telegram. "I applaud Jason Witten as far as his energy. But I've got to give a big pat on the back to our entire team, our coaching staff, our entire organization."
Several players from other teams, including the entire Seattle Seahawks team, participated in some form of protest or unity during the National Anthem, which has taken off since Colin Kaepernick first sat silently on the sidelines during the National Antem before a preseason game.
Jones went even further to almost condemn the actions of others who would join Kaepernick's protest, calling it "really disappointing."
"We strongly, strongly support the flag in every way we support?and it's almost ridiculous to be saying?the people that for generations and generations that have given it all up so that we can get out here and show off in front of millions of people on television," Jones said.
[h/t SI.com]