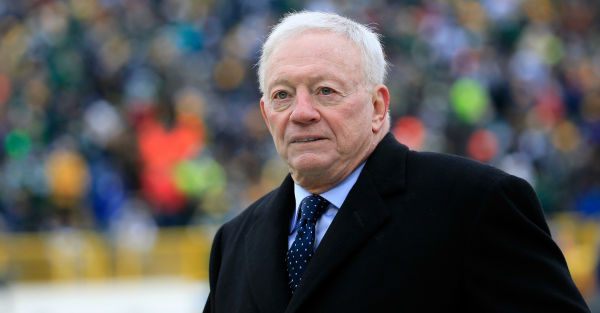 Robb Carr/Getty Images
Robb Carr/Getty Images
The Dallas Cowboys have always been known as "America's team", so it's perhaps fitting that owner Jerry Jones has propelled himself and his team right back into the national conversation involving the National Anthem and player protests.
Jones may not like it — because he's reportedly hoping for this controversy to go away — but he may be his own worst enemy in this instance. Speaking with ESPN's Chris Mortensen, Jones brought up the NFL's game operations manual for the reason he said he would sit any of his players who would decide to not stand for the national anthem — and that apparently includes Dak Prescott and Ezekiel Elliott, so he's serious.
The manual does say that NFL players should stand at attention facing the flag during the National Anthem, but that's not why people are talking about it today. People are talking about the manual, and Jones' insistence on bringing it up, because he told Mortensen that it was actually President Donald Trump who reminded him about it:
Of course, the irony in this is that the very same man who called peaceful protesters sons of bitches is now calling for decorum and a sense of right and wrong, but perhaps that's not today's discussion.
The story here is that Trump has apparently been in discussion with Jones, and he seems to be the reason behind the Cowboys' owners strong stance against his players kneeling for the National Anthem — which if we're so concerned about following the rulebook to a "T" would seem kind of ironic considering that the top official in the United State's government is apparently trying to influence a private business and institution.
Jones, thought of as one of the most powerful owners in the NFL, is apparently taking his marching orders from the White House.