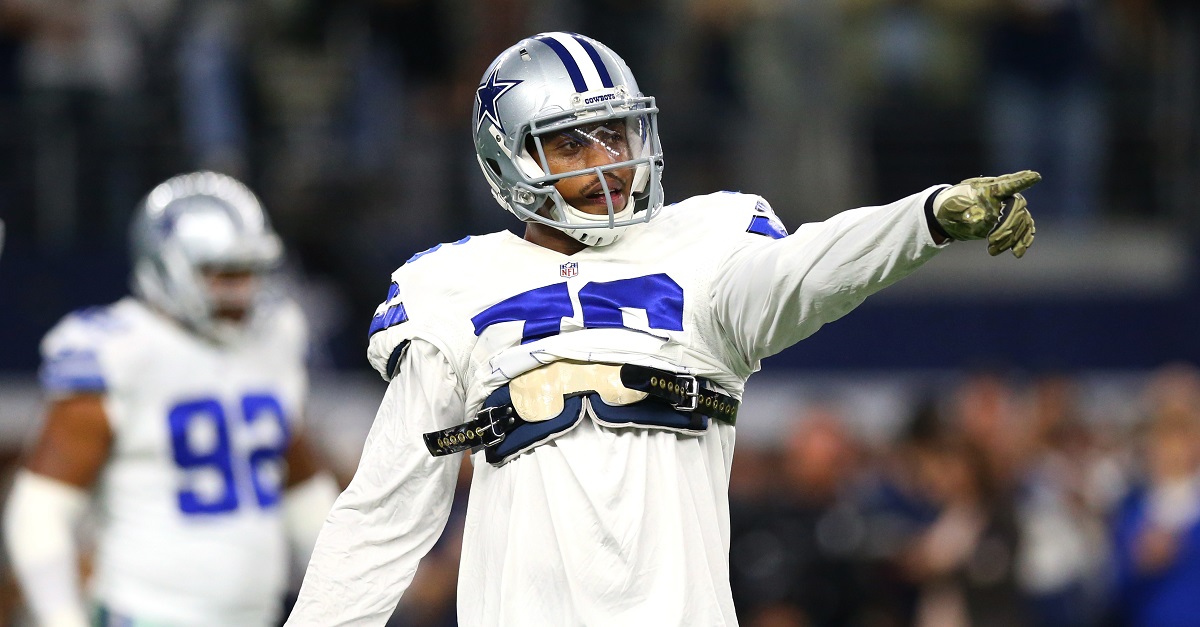 ARLINGTON, TX - NOVEMBER 8: Greg Hardy #76 of the Dallas Cowboys points across the playing field before the Cowboys take on the Philadelphia Eagles at AT&T Stadium on November 8, 2015 in Arlington, Texas. (Photo by Ronald Martinez/Getty Images)
You never really know what the Dallas Cowboys are going to do until you are able to hear from Jerry Jones himself. Jones has definitely been willing to play things loosely over the years, often resulting in high-profile — but not always highly regarded — moves either in the draft or in free agency.
Despite that history, it looks like the Cowboys are going to turn the other way on one man that has been bringing them bad press for a year: Greg Hardy. According to ESPN, Jones had an answer to whether the Cowboys were moving on from Greg Hardy, at least for 2016.
"Yes."
Hardy still has talent as a pass-rusher, which is still a need that the Cowboys need to address if they are indeed not going to bring Hardy back. Dallas did take two defensive players with their first three picks in the 2016 Draft — linebacker Jaylon Smith and defensive tackle Maliek Collins — but neither of those players will serve as a replacement, at least not in the short run due to Smith's recovery from a knee injury.
Hardy has been facing heavy issues with public relations ever since he was found guilty of domestic violence. The charges were eventually dropped, but the stigma from the trial has definitely stuck to the defensive end.
Those issues were exacerbated by the end of last season when Hardy's productions started to drop, and his teammates started to sour on his behavior. The Cowboys have shown in the past that they are willing to put up with some off-the-field issues when signing a player, but once the clashes in the locker room started, it was over for Hardy in Dallas.
The Cowboys still have six mostly later selections to make in the Draft on Saturday.