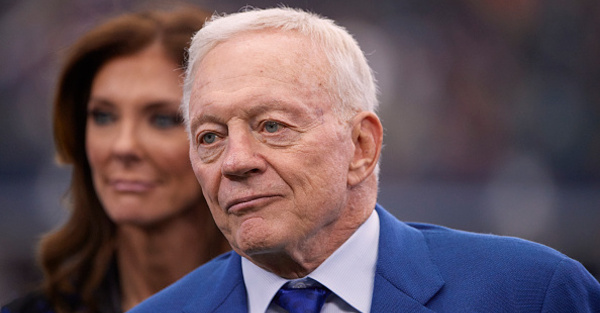 Greg Nelson/Getty Images
Football: Closeup of Dallas Cowboys owner Jerry Jones on field before game vs New York Giants at AT&T Stadium. Arlington, TX 9/11/2016 CREDIT: Greg Nelson, Getty Images 2017(Photo by One Dallas Cowboy is prepared to accomplish a "rare feat" in 2017) (Set Number: SI541 TK1 )
Jerry Jones is not a fan of NFL players kneeling during the national anthem. That's pretty much along the same line as saying dogs hate cats, or the sky is blue. It's a known fact, and it's not as though Jones is alone.
That sentiment is shared by plenty of others. However, Jones' concerns aren't rooted in the social and racial issues facing our country. They're rooted in the negative effects currently being felt by the NFL.
As more and more players continue to kneel during the national anthem in protest of the racial injustice existing in our country, it's pretty clear the NFL's sponsors are unsettled about the backlash the league is getting from the movement.
Jones believes the NFL is hurting because of it.
"There is no question the league is suffering negative effects from these protests," Jones said.
Don't get it twisted either. Jones' top priority is protecting the shield. Here's what he said about it via ESPN:
"Our ability to be substantive is based on having a strong NFL, a league that people are really interested in and want to watch and want to watch the games," Jones said. "At all times, if I am anything, I am first and foremost a proponent of making the NFL strong. Making us have as many people watching the game as we can and watching in light of what we are doing and that's playing football. If all this makes you stronger to represent messages, let's don't do it in a way that tears down the strength of the NFL."
Sure. The league may be taking a hit right now, but let's not pretend like this is the first time it's suffered. After all, there have been a few cases predicated on morality that have called the league into question in recent years (see: Greg Hardy, Ezekiel Elliott, CTE, etc.), and millions of eyes are still glued to the TV every Thursday, Sunday, and Monday. Millions of fans still feel a rush of adrenaline while trying to make last-minute changes to their fantasy football lineups.
A lot of people try to foreshadow the "eventual demise" of the NFL. But let's cut through all of that right now. It's not going to happen.
Regardless of the efforts by Jones or anyone of the 31 other owners, the NFL has been, is, and always will be the NFL. It's the law of supply and demand. People want football. They'll get football, and the NFL will gladly provide it to them.
Think about how many of your friends or acquaintances talk about how they're "never watching the NFL again," only to plop right back down on that brown leather barcalounger on Sunday right before the kickoff for the Cowboys game.
Do you know why? It's because people are comfortable with the status quo. They don't operate well when it comes to change, and a lot of people don't follow through on what they say they're going to do. A lot of people — people not named Colin Kaepernick — don't stay true to what they believe in or give up easily on what they believe in because of the opportunity cost.
The NFL is the status quo. And it will be for a long, long time.