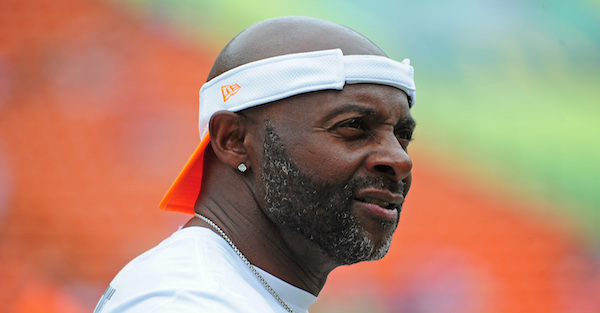 Scott Cunningham/Getty Images
HONOLULU, HI - JANUARY 26: Captain Jerry Rice of Team Rice watches warmups before the 2014 Pro Bowl against the Team Sanders at Aloha Stadium on January 26, 2014 in Honolulu, Hawaii (Photo by Scott Cunningham/Getty Images) *** Local Caption *** Jerry Rice
Pro Football Hall of Famer Jerry Rice has been retired from the NFL for more than a decade, but apparently wouldn't rule out a comeback if given the opportunity.
Rice, 55, appeared on "The Adam Schefter Podcast" this week and discussed a recent conversation with Oakland Raiders coach Jon Gruden in which he jokingly said he still had "about 80 catches" in him.
When asked by Schefter if he'd actually consider a return to the NFL, the wide receiver claimed it wouldn't even be up for debate.
"I wouldn't even give it a second thought, because, you know, I played it for over 20 years and I still think I played it the right way because I was like a little kid on the football field and to be able to impact, you know, so many lives and touch so many people, I think it made everything worthwhile," Rice said.
Rice is the all-time leader in each of the three major statistical categories at his position with 1,549 receptions for 22,895 yards and 197 touchdowns during 20 NFL seasons.
It's worth noting that Rice played for Gruden during his first stint in Oakland, which included a career resurgence, surpassing the 1,000-yard mark for the first time in two seasons during his first year with the Raiders in 2001.
Though it seems like an impossible feat for a 55-year-old to play professional football, if anyone can do it, it's Rice.