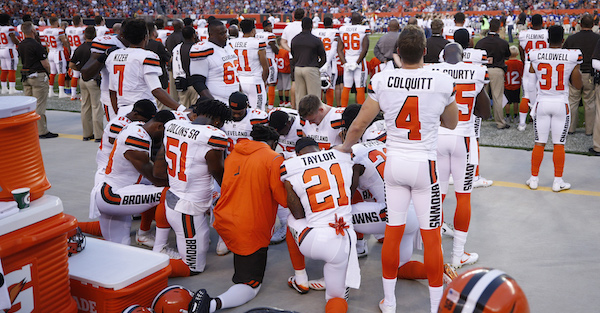 Joe Robbins/Getty Images
CLEVELAND, OH - AUGUST 21: A group of Cleveland Browns players kneel in a circle in protest during the national anthem prior to a preseason game against the New York Giants at FirstEnergy Stadium on August 21, 2017 in Cleveland, Ohio. (Photo by Joe Robbins/Getty Images)
The Cleveland Browns seem to have found a knack for making headlines lately.
First, it was the drafting of Myles Garrett with the No. 1 overall pick this past offseason. Then it was their selections of talented, albeit raw, college stars like DeShone Kizer and Jabrill Peppers that made waves. Mix in the trade for Brock Osweiler, and you've got yourself a nice collection for the PR staff to sort through.
But when a group of Browns took a knee instead of standing for the national anthem prior to their Week 2 preseason game against the New York Giants, at least one Cleveland legend was not pleased.
According to Mary Kay Cabot of Cleveland.com, Hall of Fame running back Jim Brown urged the Browns' players to stand for the national anthem.
Instead of kneeling before their Week 3 preseason win over Tampa Bay on Saturday, the Browns stood with their arms interlocked to show unity. However, they claim Brown did not tell them what to do during the anthem.
Cleveland defeated the Buccaneers, 13-9, to claim its third win of the preseason. And it appears Kizer is aligning himself to win the starting quarterback job.
Now, those are the kinds of headlines Browns fans want to see.
[h/t 247Sports]