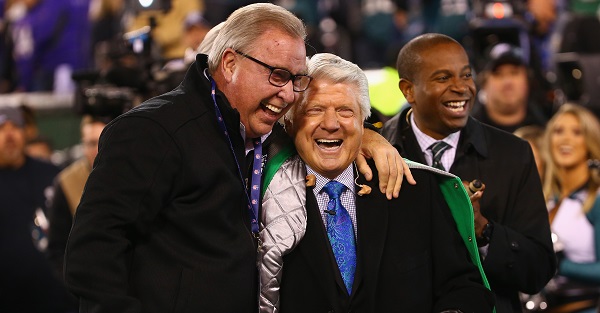 Mitchell Leff/Getty Images
PHILADELPHIA, PA - JANUARY 21: Former Philadelphia Eagle Ron Jaworski and former NFL player and coach Jimmy Johnson embrace on the field prior to the NFC Championship game between the Philadelphia Eagles and the Minnesota Vikings at Lincoln Financial Field on January 21, 2018 in Philadelphia, Pennsylvania. (Photo by Mitchell Leff/Getty Images)
The Philadelphia Eagles are headed to the Super Bowl and they are making the trip without Carson Wentz in the lineup. A few weeks ago, that felt unthinkable given that the club was deploying backup quarterback Nick Foles but, after a dominant performance in the NFC Championship Game, the Eagles are rolling to the point where the bandwagon will be filling up with haste in advance of a battle against the New England Patriots.
With that said, not everyone will be rooting for the underdogs in the Super Bowl and fans of other NFC East teams probably won't be invested in Philadelphia's success. To that end, Dallas Cowboys fans likely aren't feeling the love for Philly and that is what made a video after the NFC title game all the more interesting.
In short, FOX analyst and legendary Cowboys head coach Jimmy Johnson was seen draped in Eagles attire as part of a bit executed by Sal Paolantonio and Ron Jaworski.
Of course, context is important and this clearly wasn't Johnson's idea. Still, Cowboys fans are already upset on the internet and this kind of thing can really bring out the hatred during a rivalry.
In reality, Johnson is paid to be an unbiased analyst but he will never fully escape from the Cowboys shadow given his affiliation with that franchise. This is (very) harmless but that won't stop some Cowboys fans from getting upset.