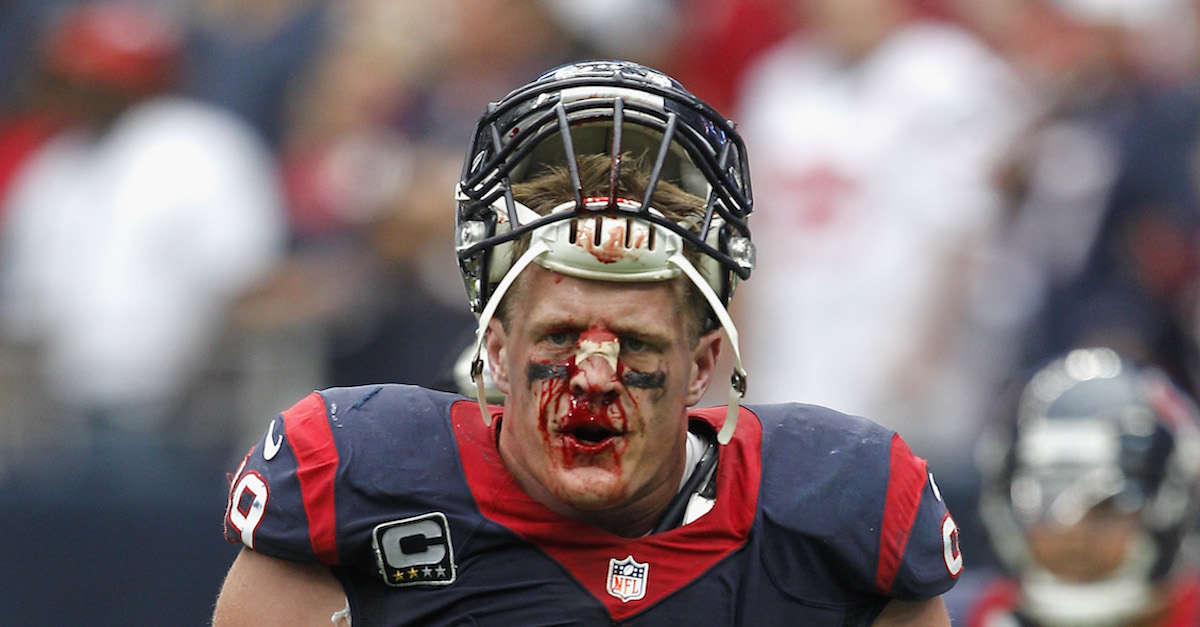 Bob Levey/Getty Images
HOUSTON, TX - SEPTEMBER 29: J.J. Watt #99 of the Houston Texans comes off the field after suffering a cut to the bridge of his nose against the Seattle Seahawks at Reliant Stadium on September 29, 2013 in Houston, Texas. (Photo by Bob Levey/Getty Images)
It doesn't matter which team is your favorite, whom you've watched play, or who you think is plays the game of football with a high intensity level — J.J. Watt is the toughest player in the league today.
Surely, we're all aware of the work he's been doing to help raise money for those affected by Hurricane Harvey, but on Sunday he was back on the gridiron to take care of his day job.
The Jacksonville Jaguars marched into Houston and took an early lead before seizing control of the game. The Texans were never in a position to challenge for the lead, but that wasn't going to stop Watt.
Houston's star player left the game with a "finger injury" before returning to action. And if you're wondering why there are quotations around "finger injury," it's because Watt's idea of a bump or bruise is the equivalent to a regular person's trip to the emergency room.
"I messed up my finger a little bit, but other than that my body felt fine. Just busted the bone through the skin. Nothing bad, just tape it up," Watt said.
He may have only recorded one tackle in a loss, but his teammates and the fans have to respect his dedication to the game.
Watt was more worried about the fact his team was trailing on the scoreboard than he was about possibly suffering a gruesome injury.
The man is unreal.
[h/t Houston Chronicle]