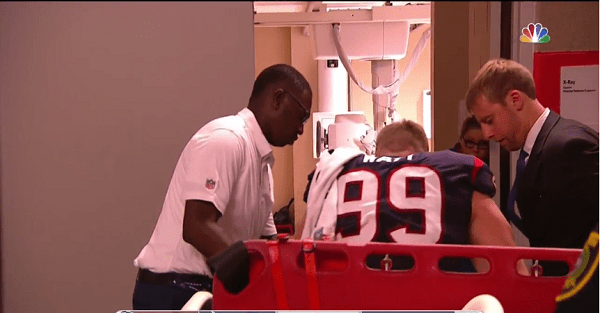 bbornstein33/Clippit
bbornstein33/Clippit
J.J. Watt is probably the most important Houston Texan in the franchise's history and is a sack master to boot. Unfortunately, he was lost for the game on this play very early in the first quarter:
That was clearly a non-contact injury and those could be the scariest kind in this game. He was helped to the sideline and eventually was carted to the X-ray room. He did not play the rest of the game and it looks like he will not play the rest of the season:
Watt had gone five games without a sack coming into the game against Kansas City and it was the longest drought of his career. It looks like he will have to wait until next season to get one as John McClain's tweet explained. The four-time Pro Bowler and three-time NFL Defensive Player of the Year will be sorely missed by Texans fans and the league as a whole.