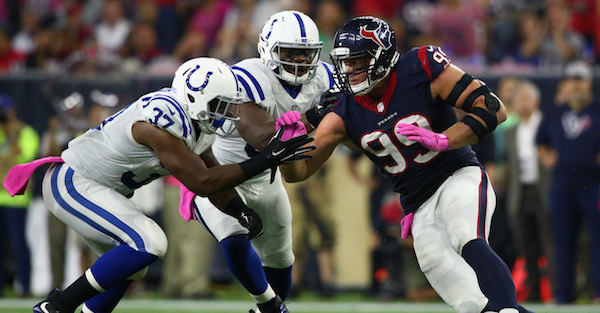 Ronald Martinez/Getty Images
HOUSTON, TX - OCTOBER 08: J.J. Watt #99 of the Houston Texans rushes against Zurlon Tipton #37 of the Indianapolis Colts at NRG Stadium on October 8, 2015 in Houston, Texas. (Photo by Ronald Martinez/Getty Images)
J.J. Watt has been quiet until now about an injury he suffered last season that nearly ended his career, and would have changed his life in ways that are almost too difficult to calculate.
The Houston Texans' 3-time Defensive Player of the Year says he got close to losing his leg to a staph infection, which he discovered by accident.
?One Friday night last season, I noticed some weird bumps on my knee,? Watt wrote in The Players Tribune.?I thought it was a rash, so I went and asked our trainer if he had any cream. He looked at my knee and said, ?That looks really bad. We have to get you to the hospital right now.?
RELATED: Fans in Mexico had a pretty controversial chant during Monday night's Texans-Raiders game
Watt, who's out for the 2016 season with a back injury, says he then received antibiotics and suited up for the game against Jacksonville anyway, despite feeling weak.
?I thought he was joking at first," Watt continued. "But then I could see in his face that he was serious and actually a bit panicked. As it turned out, he saved me in a big way. At the hospital, they immediately put me on three hours of the strongest antibiotic IVs. I went straight from the hospital to the team plane and we flew to Jacksonville. Once we landed, there were two more hours of antibiotics that night and two more the next morning before the game. The medicine had completely drained me, but I played ? and we won.?
After the game, Wattt said he realized how serious the infection was when the same trainer told him he might have needed to get his leg amputated had he not caught it when he did.