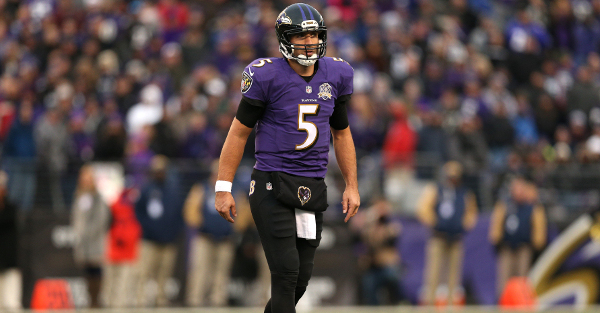 RELATED: No, NFL Commissioner Roger Goodell is not dead. Twitter pounced and it's hysterical.
---
The internet can be a terrible place, especially if you're a celebrity. If you have any significance to the world at all, you're likely to be killed off–not literally, though your name will be Googled furiously to verify the news of your demise. I'm pretty sure both Morgan Freeman and James Earl Jones have died several times according to Twitter. Even NFL Commissioner Roger Goodell kicked the digital bucket not too long ago.
Next up: Baltimore Ravens quarterback Joe Flacco.
An unverified, unaffiliated Baltimore Ravens account, @RavenNationLive, tweeted that the Super Bowl-winning quarterback died in a car crash.
The account deleted the tweet later claiming it was hacked (that's the easiest fall-back move ever).
Flacco, ever the good sport, tweeted this in response to his untimely demise because, ya know, he's not dead.
Joe Snow in the house.
[h/t FTW]