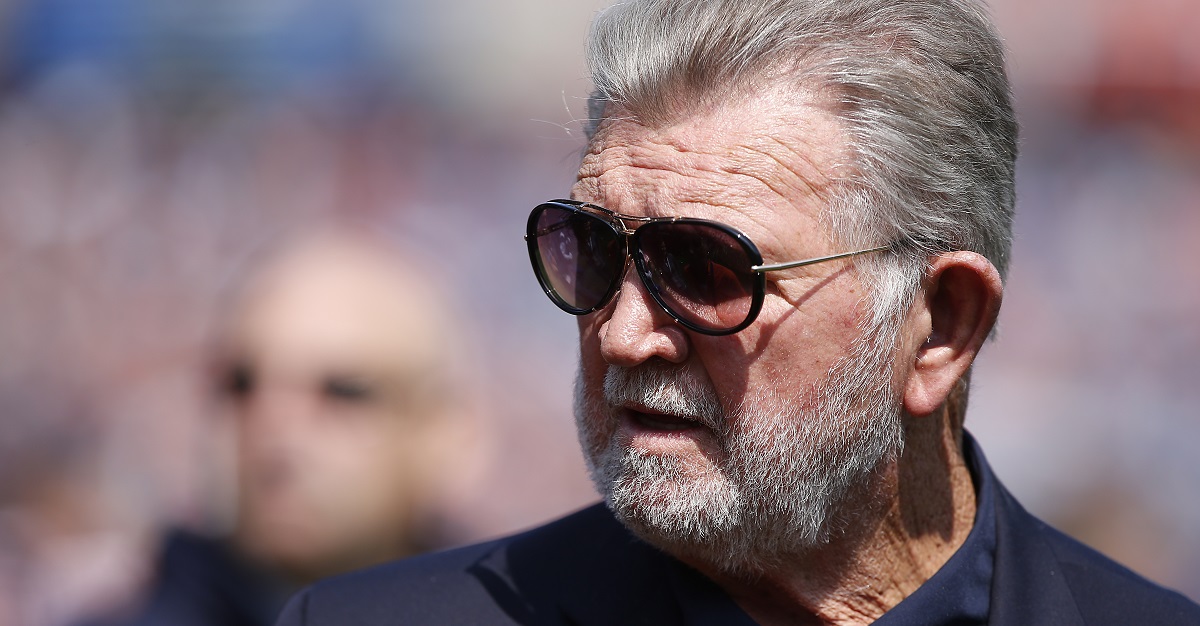 Kena Krutsinger
CHICAGO, IL - SEPTEMBER 10: Former Chicago Bears head coach Mike Ditka walks the sidelines during the game between the Chicago Bears and the Atlanta Falcons at Soldier Field on September 10, 2017 in Chicago, Illinois. (Photo by Kena Krutsinger/Getty Images)
Mike Ditka has forgotten more about football than most will ever learn in their lifetime, but when it comes to social issues, the legendary Chicago Bears coached proved himself to be quite ignorant.
Recently speaking on Westwood One before the Minnesota Vikings and Chicago Bears kicked off on Monday Night Football, Ditka gave his take on player protests during the national anthem. Of course, the players, starting with Colin Kaepernick, aren't protesting the National Anthem itself, but more so the systematic oppression and specifically the police violence and brutality against minorities in America.
That was a point that may have been lost on 77-year-old NFL Hall of Famer, though. In fact, it flew right over his head, because he apparently doesn't think there's any evidence of oppression in America within the last 100 years.
Here's what Ditka said on the radio, as passed on by the Washington Post and Bleacher Report:
Former NFL tight end and head coach Mike Ditka said Monday "there has been no oppression in the last 100 years that I know of" and said current football players should "respect the game" by saving protests for after the game rather than during the national anthem.
That's a wildly obtuse opinion from Ditka, especially when considering the fact that the civil rights era was largely thought of as the time period between 1954 and 1968 (way less than 100 years ago), and a fellow NFL Hall of Famer seems to agree that Ditka was way off the mark.
Legendary quarterback Joe Namath was on "Fox and Friends" of the FOX News network, and he took Ditka to task. Here's what he said, per TheHill.com:
?Going back to what Colin Kaepernick initially did, it was to point out some injustice that?s being done to the black race,? Namath said on "Fox & Friends." ?Or to people that obviously when you look ? and I say obviously, some of these dash cams and shootings that were done to unarmed people. He was reaching out to try to get it more investigated. So that?s where this oppression thing comes in.?

?Look up the meaning of oppression,? Namath said. ?Look up the definition of oppression, and you understand that it?s obviously taken place.?
It's worth noting that Namath did defend NFL ownership's rights to tell players how to act while working — and their conduct during the National Anthem falls into that category — but that's not the issue here.
You don't have to be a civil rights historian or even follow the current news often to know that oppression against minorities was and still can be a problem in the United States. It's one of the demons this country has yet to exorcise, and either Ditka has been too privileged, too sheltered, or too ignorant to see that.