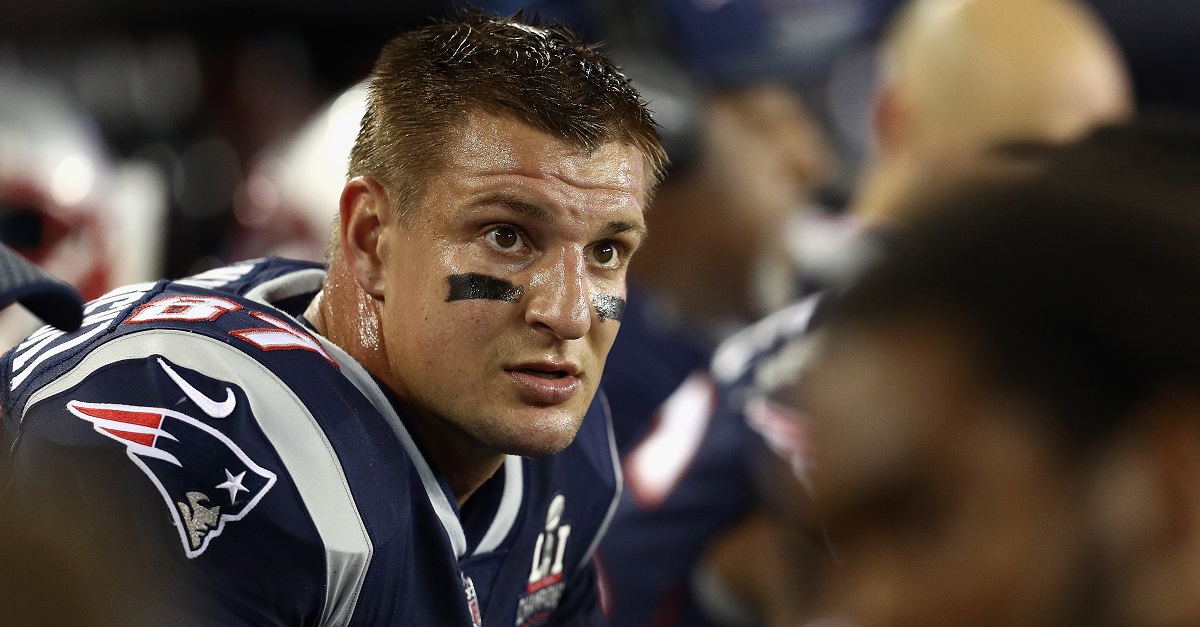 Maddie Meyer/Getty Images
FOXBORO, MA - SEPTEMBER 07: Rob Gronkowski #87 of the New England Patriots sits on the sideline during the first half against the Kansas City Chiefs at Gillette Stadium on September 7, 2017 in Foxboro, Massachusetts. (Photo by Maddie Meyer/Getty Images)
Rob Gronkowski got away with literal assault a few weeks ago when he apparently got upset with a no-call against him on a Patriots' interception.
That led to Gronk taking an extremely cheap shot on Buffalo Bills' defensive back Tre?Davious White, which ultimately led to a one-game suspension.
Why is this back in the news, you wonder?
Carolina Panthers linebacker Thomas Davis was also recently suspended for a nasty shot on the football field. Davis was suspended for two games for the illegal blindside block — which was helmet-to-helmet — he threw on Green Bay wideout Davante Adams after a Packers' interception.
It was a nasty hit, but unlike Gronk's, it came in the actual context of a football play and seemed more to do with football instinct than frustration.
And that's why Gronkowski is back in the news, because one of his contemporaries, Joe Thomas of the Cleveland Browns, thinks the NFL has itself all mixed up when it comes to the punishment of both respective players.
Here's Thomas, who's a ten-time Pro Bowler, mind you:
This is about as solid as an argument as you'll find.
Gronkowski was frustrated and obviously intended to hurt his opponent. Sure, he showed remorse after the game, but had that happened anywhere other than on a football field he likely would have been arrested for the cheap shot.
For what it's worth, Davis was remorseful immediately after his hit, and again, it happened during the context of a football play — not right after it.
The NFL claims to care about player safety and Roger Goodell has tried to come across as a strict disciplinarian in the past, but it's suspensions like these that make the league look bias.
One game for one of the NFL's star players in an absolutely brutal cheap shot, but two for a mid-level linebacker for making what was at one time considered a valid football play?
That's not a great look for the NFL, and one of its star players, Joe Thomas, knows it.