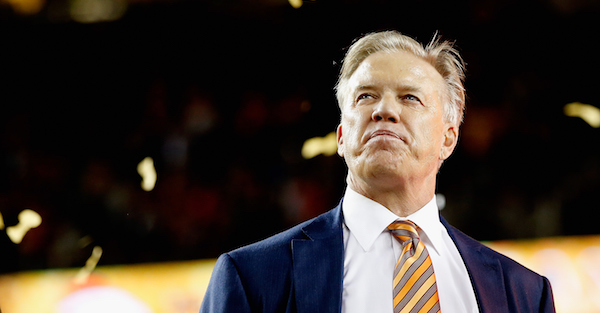 Ezra Shaw/Getty Images
SANTA CLARA, CA - FEBRUARY 07: General Manager John Elway of the Denver Broncos looks on after their win over the Carolina Panthers during Super Bowl 50 at Levi's Stadium on February 7, 2016 in Santa Clara, California. (Photo by Ezra Shaw/Getty Images)
It has not been a good season for the Denver Broncos.
In fact, at just 3-9 overall, franchise great and president of football operations/general manager John Elway feels the team has been so bad that he actually admitted to being embarrassed by the 2017-18 campaign.
Here's what he said on the radio, per ESPN.com:
"We're gonna finish the season out and, you know, obviously we know the expectations of the Denver Broncos," Elway, president of football operations and general manager for the Broncos, said in a radio interview with Orange & Blue 760. "And this has been a tough year. It's not what the Broncos are about. I'm embarrassed about it, the fact that this has happened, and will do my part to hopefully get this thing turned around next year, and the expectations of Broncos fans should be for us to get this turned around."
To put this season in perspective, keep in mind that the team is only two seasons removed from winning the Super Bowl with Peyton Manning. Sure, Manning retired and the quarterback position, nor the defense, hasn't been the same since, but Denver got a new start and a chance to jumpstart things back in the right direction in the Vance Joseph era.
Unfortunately, Joseph's stint as head coach as started off terribly, and with games against the Jets, Colts, Redskins, and Chiefs still remaining on the schedule, there's no guarantee that this season will end on a high note.
The Broncos have started three different quarterbacks so far this season and Denver is currently on an eight-game losing streak — the team's longest since 1976.