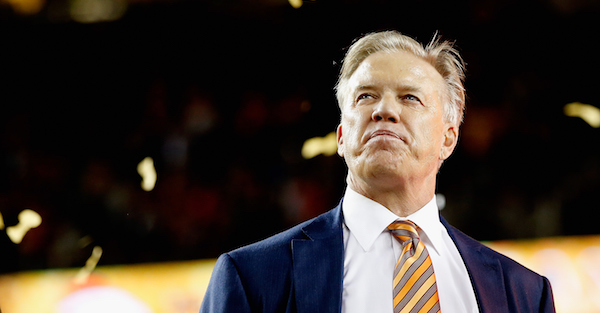 Ezra Shaw/Getty Images
SANTA CLARA, CA - FEBRUARY 07: General Manager John Elway of the Denver Broncos looks on after their win over the Carolina Panthers during Super Bowl 50 at Levi's Stadium on February 7, 2016 in Santa Clara, California. (Photo by Ezra Shaw/Getty Images)
When John Elway took a jab from a Twitter user over a year and half ago for selecting quarterback Trevor Siemian in the seventh round of the 2015 Draft, he was a little on the verbose side with his response.
Flash forward 511 days later; he took the opposite approach, using no words at all in a message to that same Twitter troll. And he didn't need to. The best performance of Siemian's career—312 yards and 4 TDs in a 29-17 victory over Cincinnati—did all the talking for him.
How sweet it must have been for Elway to throw it right back in the dude's face. At least @nfkrauss acknowledged having to eat crow.