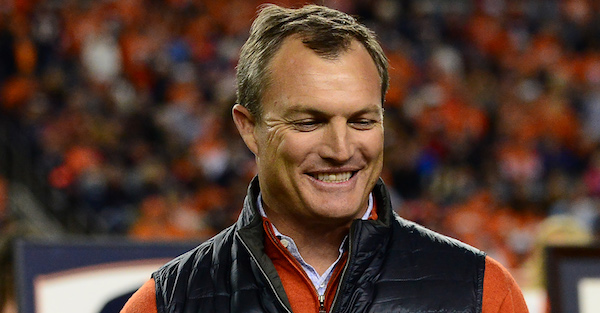 Dustin Bradford/Getty Images
DENVER, CO - OCTOBER 24: John Lynch talks with Annabel Bowlen at halftime when he is inducted to the Denver Broncos "Ring of Fame" at Sports Authority Field at Mile High on October 24, 2016 in Denver, Colorado. (Photo by Dustin Bradford/Getty Images)
Jimmy Garoppolo has attempted only 133 passes as an NFL player, but that seemingly won't stop his new general manager from praising him to an incredible degree. The recently acquired quarterback engineered a winning performance in his starting debut for the San Francisco 49ers and, this week, GM John Lynch relayed his significant confidence in Garoppolo, albeit with a reported smile.
Eric Branch of the San Francisco Chronicle brings word from Lynch, who indicated (in speaking to KNBR) that Garoppolo would have taken things to a new level in Tampa Bay had he been around for Lynch's prime with the Bucs.
?I say, man, I could have had five rings if I had a guy like that because in Tampa we never had that."
Of course, this seems quite hyperbolic given that we just haven't seen all that much from Garoppolo just yet but Lynch wasn't done.
?To me, I think great leaders, great players ? I think the greatest quality that you can't measure: Do they make people around them better? I don't think you can argue that he didn't do that for everybody on the field the other day.?
With the significant trade offering San Francisco put forth in order to acquire their new starting quarterback, it isn't a surprise that Lynch is a big fan. Still, comments like this won't do much to dampen expectations and the heat will be on sooner rather than later.