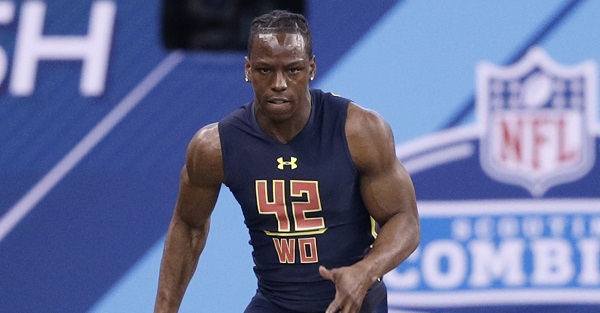 Joe Robbins/Getty Images
INDIANAPOLIS, IN - MARCH 04: Wide receiver John Ross of Washington runs the 40-yard dash in an unofficial record time of 4.22 seconds during day four of the NFL Combine at Lucas Oil Stadium on March 4, 2017 in Indianapolis, Indiana. (Photo by Joe Robbins/Getty Images)
The John Ross saga in Cincinnati has been strange, almost from the beginning. The former Washington Huskies wide receiver was a top-10 selection by the Bengals in the 2017 NFL Draft but since arriving, Ross has contributed only one catch for 12 yards and that is not exactly standard operating procedure for a player picked near the top of the class.
To make things more interesting, the Bengals had been announcing Ross as a "healthy scratch" in games leading up to this week, but with that as the backdrop, Cincinnati placed the talented wide receiver on injured reserve with a mysterious shoulder injury. Beyond that, head coach Marvin Lewis told the media (via the Dayton Daily News) that Ross had a "good opportunity" to "possibly be suited up this week" right before the franchise placed him on IR to end his season.
Now, Lewis is adding a bit of extra fuel to the fire in reportedly declaring that Ross was hiding the injury before "coming clean" to the team this week.
Details are fuzzy at this point but Ross's shoulder injury appears to be in the opposite shoulder from the one previously regarded as a risk. If he was injured significantly, that would help to explain why Ross seemingly was not performing well enough to get on the field but, in the same breath, it seems bizarre that the Bengals would not understand or know this prior to the dog and pony show of declaring him healthy while deactivating him weekly.
More information is likely to come available in the coming days but John Ross is apparently injured and that makes more sense than shutting him down healthy.