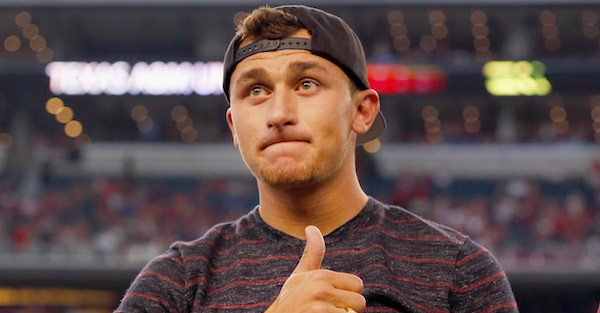 Tom Pennington/Getty Images
ARLINGTON, TX - SEPTEMBER 27: Johnny Manziel #2 of the Cleveland Browns reacts after receiving his Aggie Ring during half time of the Southwest Classic at AT&T Stadium on September 27, 2014 in Arlington, Texas. (Photo by Tom Pennington/Getty Images)
Johnny Manziel hasn't played football since 2015, but he's been looking to make a comeback. While no NFL team has been interested, there have been rumors about him possibly playing in the CFL.
New CFL coach June Jones, who took over for the Hamilton Tiger-Cats in the offseason, saw Manziel work out for the team, and he said Manziel could be the best player in CFL history.
"I think he'd be the best player to ever play up here," Jones said according to CFL.ca. "He can throw it and he can run it like nobody ever has been able to do.
"I think he's a phenomenal player. I think it was kind of unfortunate what happened to him in the NFL, some of that was by his own means, too."
Jones admitted Manziel wasn't exactly in the best of shape for his workout, but he said he knows he's capable of performing at a high level. Jones was the head coach at SMU when Manziel was playing at Texas A&M, so he's undoubtedly familiar with his accomplishments.
"I saw it in college, I saw it on the film, I saw it against Alabama, I saw it against everybody," Jones said. "The things that he would do up here, he excelled at at the National Football League level. I think he has a tremendous upside and it really is in his lap to decide if that's what he wants to do."
The Tiger-Cats are reportedly interested in bringing in Manziel for the 2018 season, so the former Browns QB might have a chance to put his talents on display.
Manziel didn't exactly work out in the NFL, but perhaps he'd be more successful in the CFL if given the opportunity.
(h/t Pro Football Talk)