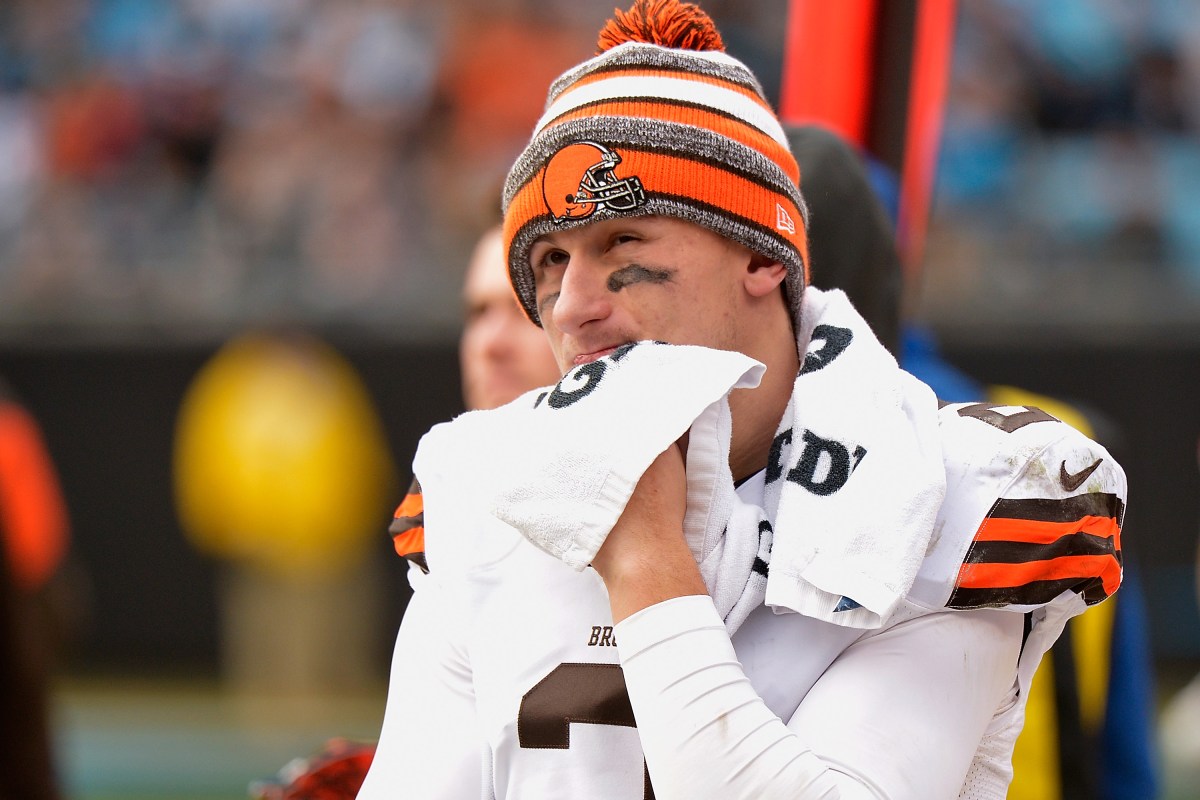 Grant Halverson/Getty Images
CHARLOTTE, NC - DECEMBER 21: Johnny Manziel #2 of the Cleveland Browns watches from the bench during the second half of a loss to the Carolina Panthers at Bank of America Stadium on December 21, 2014 in Charlotte, North Carolina. (Photo by Grant Halverson/Getty Images)
Despite their contrasting personalities, the similarities between Johnny Manziel and Tim Tebow cannot be ignored.
Both played in the SEC. Both dropped jaws with their playground running styles en route to a Heisman Trophy. Both ended up as first-round picks whose NFL careers were hindered by their respective baggage.
At some point, it's possible Manziel could look to add another variable in his absurd little Venn Diagram with Tebow.
In an interview with Clay Travis via Periscope, Manziel addressed the idea of turning to baseball if he is unable to continue his football career.
In June of 2014, about a month after the Cleveland Browns selected him, Manziel was drafted in the 28th round (No. 837 overall) as a shortstop by the San Diego Padres in the Major League Baseball draft. And he's kept the lines of communication open with them as well as his home-state Texas Rangers.
"I talk to the San Diego Padres, the team who drafted me, a little bit.  I have a good friend who's in the minor leagues with the [Texas] Rangers," he said.
But there are still a few dominoes left to fall before Manziel trades his pads for a glove. His eyes are fixated on making a return to the NFL.
"If I get to a point where I'm not able to play football or anything like that and I feel I can still go make a run at it – maybe. But for now, I'm going to leave that to Tebow," he said.
Tebow was called up this past June to the New York Mets' Class A Advanced affiliate, the St. Lucie Mets, and he is currently batting .270 with five home runs and 23 RBI.
If Manziel were to fully turn his attention to the baseball diamond, the MLB's minor leagues would have two former Heisman winners to combat the seven Heisman winners signed to active rosters in the NFL.
(H/T SDS)