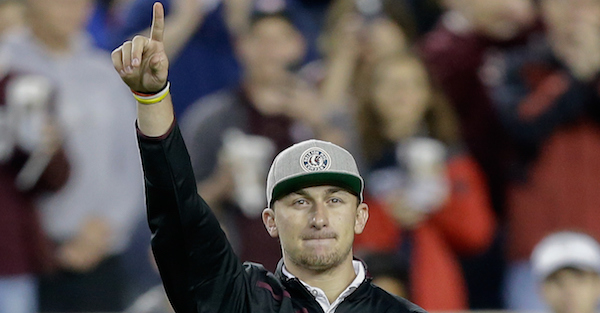 Bob Levey/Getty Images
COLLEGE STATION, TX - NOVEMBER 07: Former Texas A&M Aggies quarterback Johnny Manziel salutes the crowd at Kyle Field before the game against the Auburn Tigers on November 7, 2015 in College Station, Texas. (Photo by Bob Levey/Getty Images)
Johnny Manziel wants to return to the NFL in the future and he has made an interesting decision when it comes to his path back to professional football. After a meltdown that included interactions with President Donald Trump and basically the entire state of Ohio on Twitter, Manziel has reportedly vowed to remove the platform from his life. In fact, he told TMZ Sports that Twitter is a "distraction":
"Twitter has been nothing but a distraction for me. I've said all I can say. Now I need to shut the hell up and work on bettering myself and my situation."
Honestly, getting rid of Twitter is probably the best move for Manziel, if only because it can help to keep him out of the limelight to some degree. Whether the talented but troubled quarterback is up to the task of playing quarterback in the NFL is up for debate, but Manziel keeping his head down and grinding to make himself better on the field is likely the best path.
Given his lengthy reputation to this point, staying away from Twitter (and all forms of social media) might not be the cure that Johnny Manziel needs, but it probably can't hurt either.