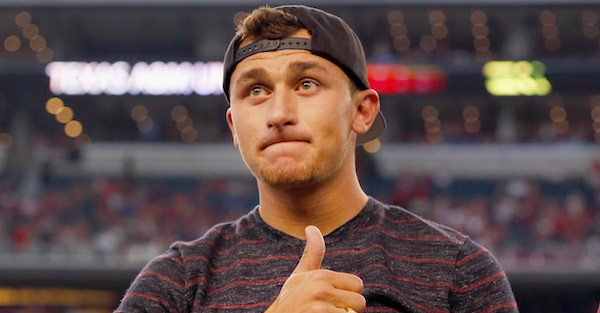 Tom Pennington/Getty Images
ARLINGTON, TX - SEPTEMBER 27: Johnny Manziel #2 of the Cleveland Browns reacts after receiving his Aggie Ring during half time of the Southwest Classic at AT&T Stadium on September 27, 2014 in Arlington, Texas. (Photo by Tom Pennington/Getty Images)
It has been a long time since Johnny Manziel took the field in a competitive football atmosphere but, with some speculation and rumblings that the Heisman Trophy winner could return in 2018, there is increased attention on the CFL. Earlier this week, Manziel was officially offered a contract from the Hamilton Tiger-Cats in the league and, on Monday, he hopped on Twitter to declare that 2018 will be an important year.
?I?ll keep grinding and let [agent Erik Burkhardt] work this thing out. I have all the faith in the world in him during this process. One way or another I am getting back on a football field this year. Believe that.?
Of course, there is a ceiling on the level of attention that Manziel will receive if he is playing in Canada, but it is definitely noteworthy to see him indicate that he will be "getting back on a football field this year." It remains to be seen as to whether Manziel can actually contribute to winning football at the quarterback position and, despite his off-field issues, that question must be answered.
The talent is real, though, and a player of his age still has a chance if everything falls into place.