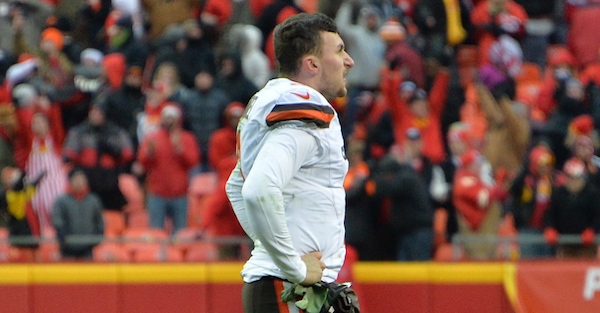 Peter Aiken/Getty Images
KANSAS CITY, MO - DECEMBER 27: Johnny Manziel #2 of the Cleveland Browns walks off the field after a loss at Arrowhead Stadium during the fourth quarter of the game agains the Kansas City Chiefs on December 27, 2015 in Kansas City, Missouri. (Photo by Peter Aiken/Getty Images)
There have been reported "red flags" in Johnny Manziel's attempt to play professional football in the CFL and, now, the league itself has weighed. Johnny Manziel, who has an exclusive negotiation window with the Hamilton Tiger-Cats should be permitted to play in Canada, will not be permitted to join the league at all during the 2017 season, as the CFL brought word of that decision this week.
Here is the full statement, via John Kryk of the Toronto Sun.
After an extensive process of due diligence and an in-person meeting with Mr. Manziel, the Commissioner has decided that he will not register any contract for Mr. Manziel for this season. However, Mr. Manziel will be eligible to sign a contract for 2018 season and, if Mr. Manziel meets certain conditions that have been spelled out by the Commissioner, the CFL will register that contract. The specifics of those conditions are confidential and will not be disclosed. The CFL has extended the stay on the expiry of the 10-day window for Mr. Manziel until November 30, 2017 and therefore Mr. Manziel will remain on Hamilton's negotiation list until that date.
The CFL had previously lengthened the amount of time allotted to decision-making on Manziel's future and, within the release, the league referenced that Manziel will still be able to negotiate with Hamilton until the end of November. Still, the major takeaway here is that Manziel won't be taking the field this season and this is yet another hiccup in his comeback effort.