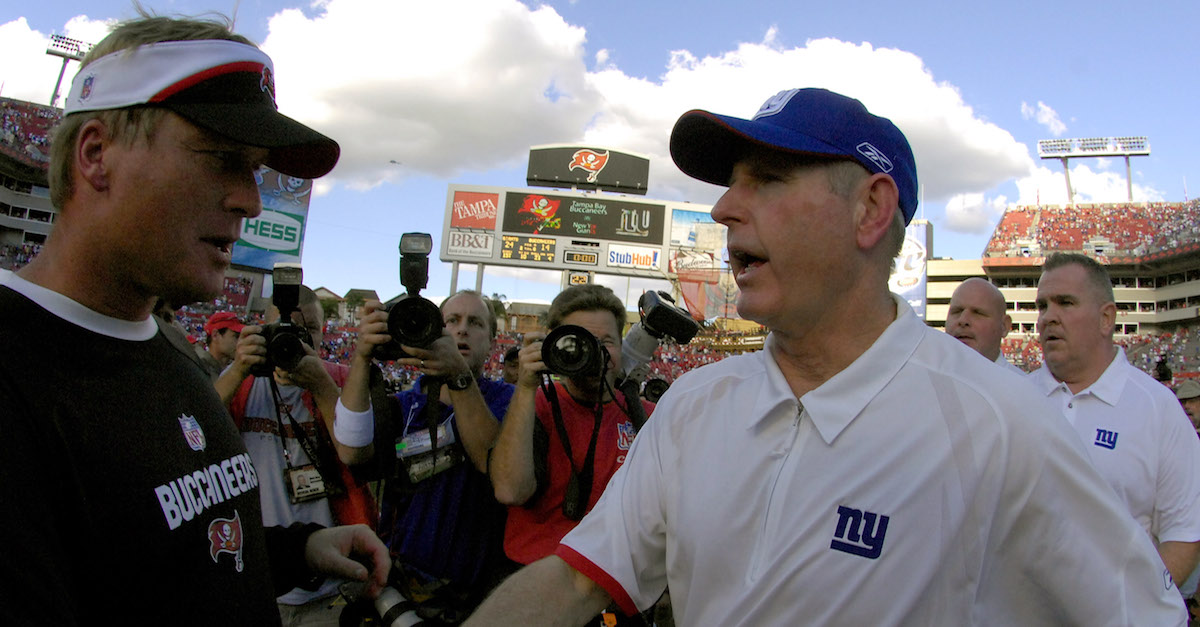 Al Messerschmidt/Getty Images
of New York Giants of the Tampa Buccaneers during the NFC Wild Card game at Raymond James Stadium on January 6, 2008 in Tampa, Florida.
Former Super Bowl winning head coach Jon Gruden has been out of coaching for eight years now, but the beloved coach has been linked to a copious amount of jobs during his time away from the sidelines.
And yet, he still hasn't taken another job, instead opting to stay in the booth on ESPN's Monday Night Football, as the color commentator, a position he's thrived in for years now.
However, Gruden may finally be inching close to returning to coaching football according to a new report from Pewter Report.
From the interview with Pewter Report:
"I've met with several people – I won't deny that," Gruden said. "People – just about every year I talk about coming back to coach. I'm not in here every day at 4:30 or 4:00 in the morning watching pinball. You know? I'm preparing myself to come back. I am. Every day. I'm preparing to come back."
Gruden is very straight forward in the interview, and his answers are certainly interesting. He clearly takes his job very seriously, and in the event that he does find a coaching job that appeals to him, he'll be ready to take it. It just has to be the right job.
From his comments, it's fair to wonder just how much longer Gruden will be in the booth for ESPN and not on the sidelines for another NFL team.