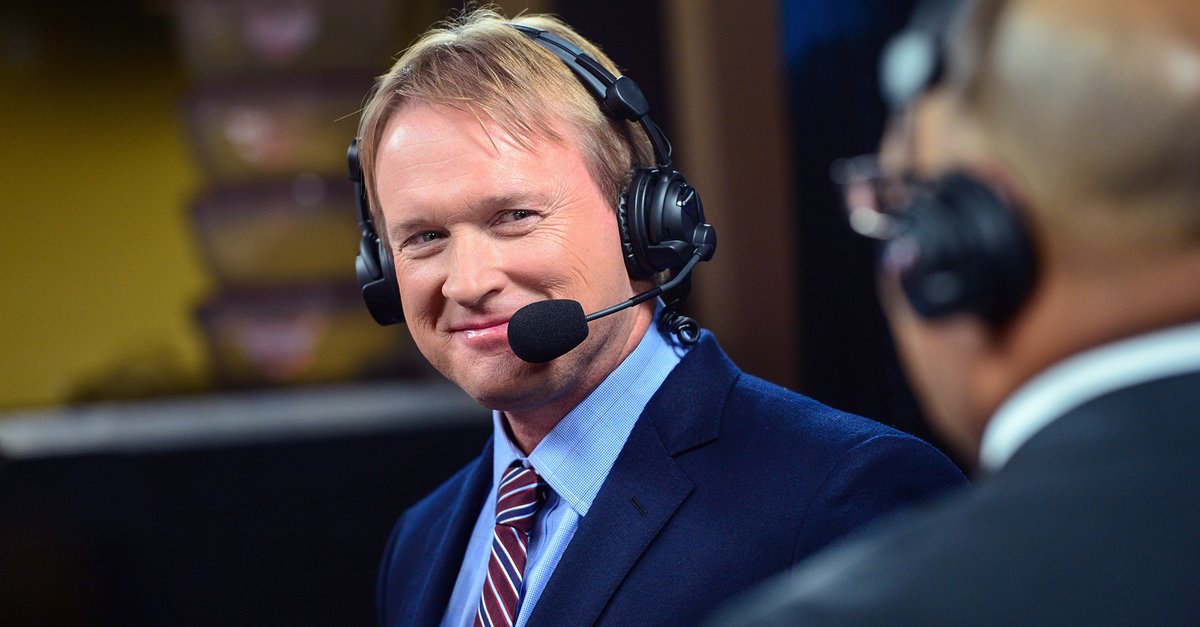 @RockyTopInsider/Twitter
@RockyTopInsider/Twitter
ESPN Monday Night Football analyst and former NFL head coach Jon Gruden confirmed "there's a good chance" he'll be making his return to the Oakland Raiders.
Gruden appeared on Wingo & Golic Wednesday and finally addressed reports that he was expected to replace former head coach Jack Del Rio, who was fired on Sunday after the team's 30-10 loss to the Los Angeles Chargers.
"I think there's a good chance," Gruden said. "I'm excited about where I'm at in terms of studying the game and am prepared to come back and coach. I just don't want to sit here and speculate. … I don't know what's gonna happen, I gotta be honest with you. It's been a long couple weeks. I know they've gone through their process of interviewing candidates. And until they're done I won't know but I did have a good meeting with Mark, I've known him a long time and I got a lot of respect for the Raider football organization."
Gruden also denied a report that Oakland offered him an ownership stake as part of its negotiations.
"There's no truth to that at all," he said. "There's no validity to that at all. None. Zero."
On Saturday, ESPN's Adam Schefter and Chris Mortensen reported that the Raiders were "preparing to pursue" Gruden prior to firing Del Rio the following day.
"For Jack Del Rio to walk into his press conference minutes after his game ended yesterday to say that the Raiders' owner Mark Davis had informed him that he's no longer coaching the team tells you that the Jon Gruden talk is real, and that it's going to happen," Schefter said during a Monday morning appearance on SportsCenter.
Of course, many believed this to be true considering it was published and broadcasted by Gruden's employer of the past nine years.
"That's up to Mark Davis," he said. "I've had good conversations with Mark and they're still going through the interview process. When he knows, I think we'll all know, but I appreciate Adam [Schefter] and Chris [Mortensen's] confidence that I have a chance of getting that job — it's awful nice though."
Gruden coached the Raiders from 1998-2001 before joining the Tampa Bay Buccaneers as part of a high-stakes trade that included the Bucs' 2002 and 2003 first-round draft picks, 2002 and 2004 second-round picks and $8 million in cash. The following season, Tampa Bay defeated Oakland in Super Bowl XXXVII.
Gruden, who hasn't coached since 2008, owns a 95-81 career record, which includes going 38-26 during his first tenure with the Raiders.
Additionally, FootballScoop.com reported the coach, who made around $6 million annually at ESPN, would be paid about $10 million per year with the Raiders.