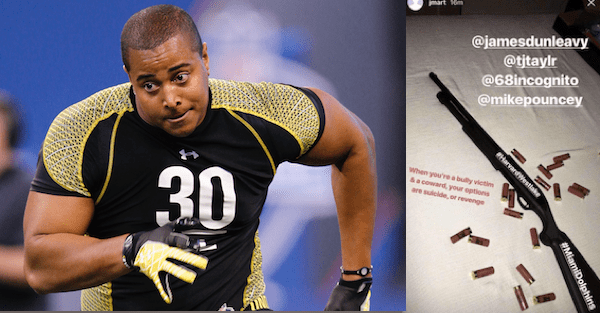 Raj Prashad/FanBuzz
Jonathan Martin, the former Miami Dolphins player who was the victim of alleged bullying, was taken into custody after posting a threatening picture of a gun, while tagging players involved in the bullying scandal and his former high school.
Martin is reportedly being held at a mental health facility after the frightening apparent threat. He was not taken into police custody, per the USA Today.
"The individual believed to be responsible for the social media post is being detained, however he is not in police custody," the LAPD spokesperson Tony Im told USA TODAY Sports in an email on Friday night. "The investigation is continuing, but rest assured we believe there is no threat to any school in the LA area."
The post featured a picture of a gun with the hashtags "#MiamiDolphins" and "#HarvardWestlake" on it, as well as having former teammates Richie Incognito and Mike Pouncey tagged. The post was also captioned: "When you're a bully victim & a coward, your options are suicide, or revenge".
Harvard Westlake School, a private school that Martin attended before his NFL days, was closed on Friday after school officials became aware of the online post. Martin's post comes just a week after a shooting at Marjory Stoneman Douglas High School in Florida killed 17 people.
It is unclear if Martin has been charged with a crime at this point in time.
Martin was at the center of a bullying scandal that rocked the Dolphins several years ago. The scandal eventually resulted in Incognito being suspended for eight games by the NFL for his alleged involvement in the harassment of Martin.
Martin has since retired from the NFL due to injuries sustained while playing football.