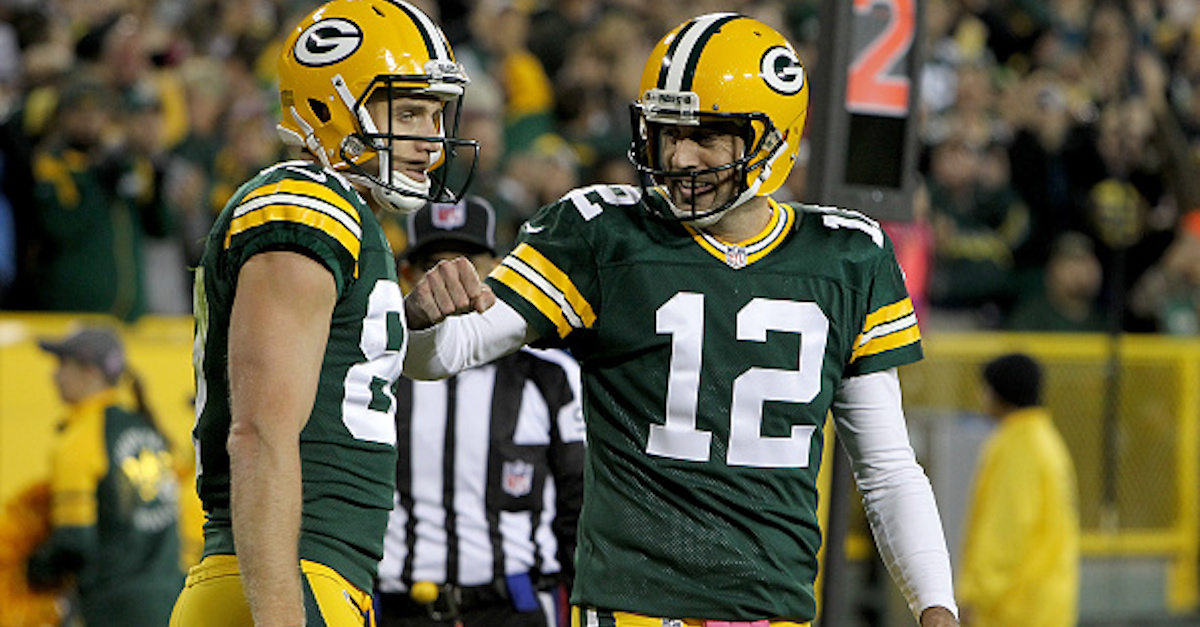 Photo by Dylan Buell/Getty Images
GREEN BAY, WI - OCTOBER 09: Jordy Nelson #87 and Aaron Rodgers #12 of the Green Bay Packers celebrate after scoring a touchdown in the first quarter against the New York Giants at Lambeau Field on October 9, 2016 in Green Bay, Wisconsin. (Photo by Dylan Buell/Getty Images)
Fans of the Green Bay Packers are used to seeing Aaron Rodgers and Jordy Nelson connecting for long bombs on a week-to-week basis, but the star receiver knows that his career won't last forever.
In fact, recently speaking with his old teammate A.J. Hawk on The HawkCast Podcast, Nelson was very clear that he may be nearing the end of the road as far as his professional career as a receiver is concerned.
The good news for Packers fans is that at the very least, he seems to want to remain in Green Bay until the end.
Here's what he had to say, as transcribed by Zach Kruse of Packers Wire:
?I got two more years left on this deal, it would be great to play those out and kind of see where we?re at,? Nelson told former Packers linebacker A.J. Hawk on The HawkCast podcast. ?Me personally, how I feel, how the body feels. And then, obviously, it?s up to the organization what they would want to do.?
That's the good news for Packers fans. For all intents and purposes, it sounds like Nelson wants to retire in Green Bay, which would be quite the feat considering how rare that is in today's NFL. Nelson has played eight years in the league since being drafted in the second round of the 2008 NFL Draft by the Packers. All eight seasons have been with Green Bay. It would be great to see Nelson retire with the team that made him a big-time wide receiver.
The bad news for Packers fans? They may only have him for a few more seasons before he decides to hang them up.
Here's what he told Hawk.
?I would say anywhere between two to four more years. I think four more ? so this one and three more ? would be my max,? Nelson said. ?That would put me at 13 years. I?d be happy with that, obviously. At some point, I have to get my family back to Kansas.?
A 13-year NFL career is nothing to scoff that, though Green Bay fans certainly wish that Rodgers and Nelson could find a way to play together for the rest of time.
That's the reality of life in the NFL, though. Eventually, it's time to move on, and apparently, Nelson knows exactly when he'd like to do that.