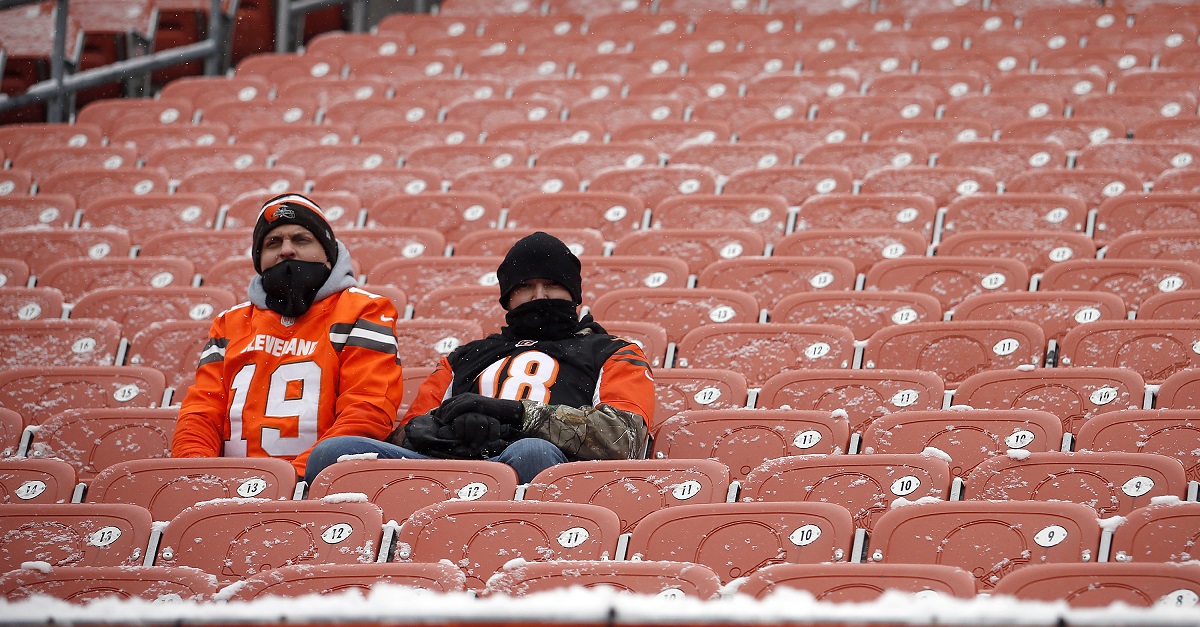 Justin K. Aller/Getty Images
CLEVELAND, OH - DECEMBER 11: Fans of the Cleveland Browns and the Cincinnati Bengals sit together before the game at Cleveland Browns Stadium on December 11, 2016 in Cleveland, Ohio. (Photo by Justin K. Aller/Getty Images)
The Cleveland Browns own the No. 1 pick in the 2018 NFL Draft, and if this report is to be believed… this could go poorly.
According to ESPN's Ian O'Connor, a named personnel executive in the NFC believes the Browns will select Wyoming quarterback Josh Allen with the No. 1 overall pick in the draft.
Allen, a 6-foot-5 junior quarterback, has been touted as a potential top pick since the end of last season. In 11 games this season, Allen threw for 1812 (56-percent completion) and 16 touchdowns against six interceptions.
FanBuzz's Take
No pick is ever safe from being a bust, as it's happened to multiple top picks throughout time, but the Browns taking Allen could prove to be as solid of a match as oil and water; while Allen has the physical tools that scouts love in an NFL quarterback, he still struggled mightily at Wyoming this season. Some of that can be blamed on the talent around him at Wyoming, but if you are looking to improve the talent situation by going to the Browns…
ESPN actually had a massive discussion on this a week ago during Allen's bowl game, with one of the ideas being that Allen would need the right environment in the NFL to become a star. Of course, that's not the kind of statement you usually associate with the Cleveland Browns, who have cycled through quarterback after quarterback over the past two decades.
ESPN also still touted Allen as a potential top pick, something many fans clearly weren't buying at the time.
Allen did have a nice game with three touchdowns in the first half of that bowl game, but the he is going to be an extremely hard sell to the fans of Cleveland that have long been waiting for a consistent starting quarterback.