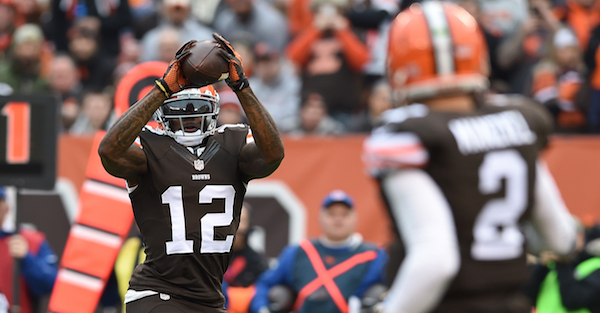 Jason Miller/Getty Images
CLEVELAND, OH - DECEMBER 14: Josh Gordon #12 makes a catch on a ball thrown by Johnny Manziel #2 of the Cleveland Browns during the second quarter against the Cincinnati Bengals at FirstEnergy Stadium on December 14, 2014 in Cleveland, Ohio. (Photo by Jason Miller/Getty Images)
Former Pro Bowl receiver Josh Gordon has been out of the NFL since 2015 when he was suspended for violating the NFL's drug and alcohol policy.
Gordon, who was drafted by the Cleveland Browns in the second round of the 2012 NFL Supplemental draft, has long had a high-profile struggle with the NFL and specifically its strong stance against marijuana use — a habit Gordon simply hasn't been able to kick.
There was a point in July of 2016 when the NFL announced that it would reinstate Gordon for the season after he served a four-game suspension, but the wideout put himself in in-patient rehab, which ended that bid for reinstatement. Per Josh Edwards of 247Sports, the last time Gordon applied for reinstatement was May 11, but that was denied by NFL commissioner Roger Goodell.
Eric Galko of Sporting News and Optimum Scouting is now reporting some more positive news for Gordon, though. Per Galko, Gordon has a better than 50/50 chance of being reinstated for this year. It's nowhere near a lock, but that's better than nothing, and we could learn more about Gordon soon.
If Gordon is reinstated to the NFL, he'll go back to the Browns. Cleveland technically still has him on a $5,341,648 million four-year deal, per Edwards, and he'll be under that contract until the offseason of 2018. Just in case you were wondering, Gordon's money has been deferred due to the indefinite suspension.
Since entering the league in 2012, Gordon has played in only 35 games. He played in 16 games in 2012 and 14 in 2013. He played in only five games in the 2014 season and he hasn't seen the field since.
In those 35 games, Gordon has caught 161 passes for 2,754 yards and 14 touchdowns.