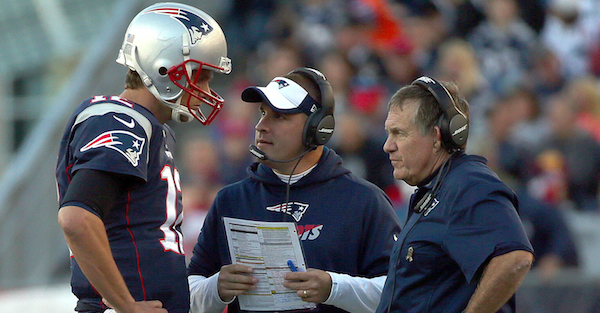 Jim Rogash/Getty Images
FOXBORO, MA - NOVEMBER 8: Tom Brady #12 of the New England Patriots confers with Josh McDaniels and Bill Belichick in the second half during a game with the Washington Redskins at Gillette Stadium on November 8, 2015 in Foxboro, Massachusetts. (Photo by Jim Rogash/Getty Images)
The Indianapolis Colts officially confirmed the hiring of New England Patriots offensive coordinator Josh McDaniels as their new head coach on Tuesday via Twitter.
The franchise announced that McDaniels will be introduced during a press conference on Wednesday.
McDaniels had previously served as the head coach of the Denver Broncos from 2009-10, recording an 11-17 record in two seasons.
He spent the last six seasons working as the Patriots' offensive coordinator and quarterbacks coach and had previously worked with the franchise from 2001-08, which included a total of five Super Bowl championships during both stints.
The 41-year-old coach also worked as the St. Louis Rams' offensive coordinator and quarterbacks coach in 2011 before rejoining New England's staff.
According to Pro Football Talk, there was reported concern that McDaniels could make a last-minute decision to stay with the Patriots following Sunday's Super Bowl loss. During NBC's pregame show, it was reported that the coach hadn't yet confirmed his plans to leave to the team prior to kickoff.
There was also speculations that McDaniels would stay in New England if head coach Bill Belichick announced his retirement.
The former offensive coordinator refused to discuss his future following Sunday's loss, according to Tom E. Curran of NBC Sports Boston.
However, Curran also reported that McDaniels planned to speak with Belichick on Monday and was expected to confirm his intention to join the Colts, according to WTHR.